{"field__delivery_modes_to_huls_hi":{"#cache":{"contexts":[],"tags":[],"max-age":-1},"#weight":0},"field__partnerships_supported_ph":{"#cache":{"contexts":[],"tags":[],"max-age":-1},"#weight":0},"field_accept_following_do_you_ac":{"#cache":{"contexts":[],"tags":[],"max-age":-1},"#weight":0},"field_access_q1_higher":{"#theme":"field","#title":"Access Q1 Higher","#label_display":"above","#view_mode":"full","#language":"en","#field_name":"field_access_q1_higher","#field_type":"list_string","#field_translatable":false,"#entity_type":"node","#bundle":"survey","#object":{"in_preview":null},"#items":{},"#formatter":"list_default","#is_multiple":true,"#third_party_settings":[],"0":{"#markup":"Targeted recruitment initiatives, local and\/or national","#allowed_tags":["a","b","big","code","del","em","i","ins","pre","q","small","span","strong","sub","sup","tt","ol","ul","li","p","br","img"]},"1":{"#markup":"Campus outreach across departments and student organizations","#allowed_tags":["a","b","big","code","del","em","i","ins","pre","q","small","span","strong","sub","sup","tt","ol","ul","li","p","br","img"]},"2":{"#markup":"Summer programming","#allowed_tags":["a","b","big","code","del","em","i","ins","pre","q","small","span","strong","sub","sup","tt","ol","ul","li","p","br","img"]},"3":{"#markup":"Community outreach","#allowed_tags":["a","b","big","code","del","em","i","ins","pre","q","small","span","strong","sub","sup","tt","ol","ul","li","p","br","img"]},"4":{"#markup":"Social media","#allowed_tags":["a","b","big","code","del","em","i","ins","pre","q","small","span","strong","sub","sup","tt","ol","ul","li","p","br","img"]},"5":{"#markup":"Parent outreach","#allowed_tags":["a","b","big","code","del","em","i","ins","pre","q","small","span","strong","sub","sup","tt","ol","ul","li","p","br","img"]},"#cache":{"contexts":[],"tags":[],"max-age":-1},"#weight":0},"field_access_q1_native":{"#cache":{"contexts":[],"tags":[],"max-age":-1},"#weight":0},"field_access_q3_a_native":{"#cache":{"contexts":[],"tags":[],"max-age":-1},"#weight":0},"field_access_q3_b_native":{"#cache":{"contexts":[],"tags":[],"max-age":-1},"#weight":0},"field_access_q3_c_native":{"#cache":{"contexts":[],"tags":[],"max-age":-1},"#weight":0},"field_access_q3_d_native":{"#cache":{"contexts":[],"tags":[],"max-age":-1},"#weight":0},"field_access_q3_e_native":{"#cache":{"contexts":[],"tags":[],"max-age":-1},"#weight":0},"field_access_q3_f_native":{"#cache":{"contexts":[],"tags":[],"max-age":-1},"#weight":0},"field_access_q3_g_name_native":{"#cache":{"contexts":[],"tags":[],"max-age":-1},"#weight":0},"field_access_q3_g_value_native":{"#cache":{"contexts":[],"tags":[],"max-age":-1},"#weight":0},"field_accreditation_higher":{"#cache":{"contexts":[],"tags":[],"max-age":-1},"#weight":0},"field_accreditation_higher_2":{"#cache":{"contexts":[],"tags":[],"max-age":-1},"#weight":0},"field_actively_recruit_huls":{"#cache":{"contexts":[],"tags":[],"max-age":-1},"#weight":0},"field_actively_recruit_latinx":{"#cache":{"contexts":[],"tags":[],"max-age":-1},"#weight":0},"field_actively_recruit_students":{"#theme":"field","#title":"Actively recruit students higher","#label_display":"above","#view_mode":"full","#language":"en","#field_name":"field_actively_recruit_students","#field_type":"list_string","#field_translatable":false,"#entity_type":"node","#bundle":"survey","#object":{"in_preview":null},"#items":{},"#formatter":"list_default","#is_multiple":false,"#third_party_settings":[],"0":{"#markup":"Alaska Natives","#allowed_tags":["a","b","big","code","del","em","i","ins","pre","q","small","span","strong","sub","sup","tt","ol","ul","li","p","br","img"]},"#cache":{"contexts":[],"tags":[],"max-age":-1},"#weight":0},"field_activities_do_these_partne":{"#cache":{"contexts":[],"tags":[],"max-age":-1},"#weight":0},"field_activities_in_courses_in_y":{"#cache":{"contexts":[],"tags":[],"max-age":-1},"#weight":0},"field_additional_activities_do":{"#cache":{"contexts":[],"tags":[],"max-age":-1},"#weight":0},"field_additional_language_latinx":{"#cache":{"contexts":[],"tags":[],"max-age":-1},"#weight":0},"field_adults_cbhls":{"#cache":{"contexts":[],"tags":[],"max-age":-1},"#weight":0},"field_after_school_activities_at":{"#cache":{"contexts":[],"tags":[],"max-age":-1},"#weight":0},"field_after_school_activities_en":{"#cache":{"contexts":[],"tags":[],"max-age":-1},"#weight":0},"field_after_school_classes_noh_c":{"#cache":{"contexts":[],"tags":[],"max-age":-1},"#weight":0},"field_after_school_classes_nowy":{"#cache":{"contexts":[],"tags":[],"max-age":-1},"#weight":0},"field_are_dual_language_teachers":{"#cache":{"contexts":[],"tags":[],"max-age":-1},"#weight":0},"field_are_staff_required_to_spea":{"#cache":{"contexts":[],"tags":[],"max-age":-1},"#weight":0},"field_assess_language_outcome_hi":{"#theme":"field","#title":"assess language outcomes higher","#label_display":"above","#view_mode":"full","#language":"en","#field_name":"field_assess_language_outcome_hi","#field_type":"list_integer","#field_translatable":false,"#entity_type":"node","#bundle":"survey","#object":{"in_preview":null},"#items":{},"#formatter":"list_default","#is_multiple":true,"#third_party_settings":[],"0":{"#markup":"0","#allowed_tags":["a","b","big","code","del","em","i","ins","pre","q","small","span","strong","sub","sup","tt","ol","ul","li","p","br","img"]},"#cache":{"contexts":[],"tags":[],"max-age":-1},"#weight":0},"field_assess_language_outcomes":{"#cache":{"contexts":[],"tags":[],"max-age":-1},"#weight":0},"field_authorized_ib_world_native":{"#cache":{"contexts":[],"tags":[],"max-age":-1},"#weight":0},"field_average_number_of_students":{"#cache":{"contexts":[],"tags":[],"max-age":-1},"#weight":0},"field_average_number_of_teachers":{"#cache":{"contexts":[],"tags":[],"max-age":-1},"#weight":0},"field_background_q8_other_field":{"#cache":{"contexts":[],"tags":[],"max-age":-1},"#weight":0},"field_background_q8_other_fieldh":{"#cache":{"contexts":[],"tags":[],"max-age":-1},"#weight":0},"field_background_q8_other_fieldn":{"#cache":{"contexts":[],"tags":[],"max-age":-1},"#weight":0},"field_background_that_teachers_h":{"#cache":{"contexts":[],"tags":[],"max-age":-1},"#weight":0},"field_can_you_give_an_explicit_e":{"#cache":{"contexts":[],"tags":[],"max-age":-1},"#weight":0},"field_certification_for_subject_":{"#cache":{"contexts":[],"tags":[],"max-age":-1},"#weight":0},"field_characteristics_of_student":{"#cache":{"contexts":[],"tags":[],"max-age":-1},"#weight":0},"field_classes_specifically_targe":{"#theme":"field","#title":"Classes specifically targeted to HULs Higher","#label_display":"above","#view_mode":"full","#language":"en","#field_name":"field_classes_specifically_targe","#field_type":"list_string","#field_translatable":false,"#entity_type":"node","#bundle":"survey","#object":{"in_preview":null},"#items":{},"#formatter":"list_default","#is_multiple":false,"#third_party_settings":[],"0":{"#markup":"Yes","#allowed_tags":["a","b","big","code","del","em","i","ins","pre","q","small","span","strong","sub","sup","tt","ol","ul","li","p","br","img"]},"#cache":{"contexts":[],"tags":[],"max-age":-1},"#weight":0},"field_classification_of_higher":{"#theme":"field","#title":"Classification of Higher","#label_display":"above","#view_mode":"full","#language":"en","#field_name":"field_classification_of_higher","#field_type":"list_string","#field_translatable":false,"#entity_type":"node","#bundle":"survey","#object":{"in_preview":null},"#items":{},"#formatter":"list_default","#is_multiple":false,"#third_party_settings":[],"0":{"#markup":"Two-year institutions","#allowed_tags":["a","b","big","code","del","em","i","ins","pre","q","small","span","strong","sub","sup","tt","ol","ul","li","p","br","img"]},"#cache":{"contexts":[],"tags":[],"max-age":-1},"#weight":0},"field_co_curricular_collaboratio":{"#theme":"field","#title":"co-curricular collaborations higher","#label_display":"above","#view_mode":"full","#language":"en","#field_name":"field_co_curricular_collaboratio","#field_type":"list_string","#field_translatable":false,"#entity_type":"node","#bundle":"survey","#object":{"in_preview":null},"#items":{},"#formatter":"list_default","#is_multiple":true,"#third_party_settings":[],"0":{"#markup":"Community associations","#allowed_tags":["a","b","big","code","del","em","i","ins","pre","q","small","span","strong","sub","sup","tt","ol","ul","li","p","br","img"]},"#cache":{"contexts":[],"tags":[],"max-age":-1},"#weight":0},"field_co_curricular_offerings_hi":{"#theme":"field","#title":"co-curricular offerings higher","#label_display":"above","#view_mode":"full","#language":"en","#field_name":"field_co_curricular_offerings_hi","#field_type":"list_string","#field_translatable":false,"#entity_type":"node","#bundle":"survey","#object":{"in_preview":null},"#items":{},"#formatter":"list_default","#is_multiple":true,"#third_party_settings":[],"0":{"#markup":"History, economics, social sciences","#allowed_tags":["a","b","big","code","del","em","i","ins","pre","q","small","span","strong","sub","sup","tt","ol","ul","li","p","br","img"]},"1":{"#markup":"Performing and fine arts","#allowed_tags":["a","b","big","code","del","em","i","ins","pre","q","small","span","strong","sub","sup","tt","ol","ul","li","p","br","img"]},"#cache":{"contexts":[],"tags":[],"max-age":-1},"#weight":0},"field_cultural_integration_a_fac":{"#cache":{"contexts":[],"tags":[],"max-age":-1},"#weight":0},"field_curriculum_and_instruction":{"#cache":{"contexts":[],"tags":[],"max-age":-1},"#weight":0},"field_curriculum_instruction_exp":{"#cache":{"contexts":[],"tags":[],"max-age":-1},"#weight":0},"field_describe_any_educational":{"#cache":{"contexts":[],"tags":[],"max-age":-1},"#weight":0},"field_different_types_of_classes":{"#cache":{"contexts":[],"tags":[],"max-age":-1},"#weight":0},"field_dlp_teachers_considered_la":{"#cache":{"contexts":[],"tags":[],"max-age":-1},"#weight":0},"field_do_staff_administrators":{"#cache":{"contexts":[],"tags":[],"max-age":-1},"#weight":0},"field_do_staff_administrators_se":{"#cache":{"contexts":[],"tags":[],"max-age":-1},"#weight":0},"field_do_you_accept_teachers":{"#cache":{"contexts":[],"tags":[],"max-age":-1},"#weight":0},"field_do_you_have_policy_and_eff":{"#cache":{"contexts":[],"tags":[],"max-age":-1},"#weight":0},"field_do_you_have_policy_and_lis":{"#cache":{"contexts":[],"tags":[],"max-age":-1},"#weight":0},"field_do_you_make_available_to_y":{"#cache":{"contexts":[],"tags":[],"max-age":-1},"#weight":0},"field_do_your_require_any_certif":{"#cache":{"contexts":[],"tags":[],"max-age":-1},"#weight":0},"field_does_your_lea_or_sea_offer":{"#cache":{"contexts":[],"tags":[],"max-age":-1},"#weight":0},"field_does_your_program_have_any":{"#cache":{"contexts":[],"tags":[],"max-age":-1},"#weight":0},"field_does_your_program_reach_ou":{"#cache":{"contexts":[],"tags":[],"max-age":-1},"#weight":0},"field_does_your_school_community":{"#cache":{"contexts":[],"tags":[],"max-age":-1},"#weight":0},"field_does_your_school_gov_nativ":{"#cache":{"contexts":[],"tags":[],"max-age":-1},"#weight":0},"field_does_your_school_offer":{"#cache":{"contexts":[],"tags":[],"max-age":-1},"#weight":0},"field_does_your_school_program_p":{"#cache":{"contexts":[],"tags":[],"max-age":-1},"#weight":0},"field_does_your_teaching_staff_m":{"#cache":{"contexts":[],"tags":[],"max-age":-1},"#weight":0},"field_elementary_school_students":{"#cache":{"contexts":[],"tags":[],"max-age":-1},"#weight":0},"field_em":{"#cache":{"contexts":[],"tags":[],"max-age":-1},"#weight":0},"field_emphasize_in_your_language":{"#theme":"field","#title":"emphasize in your language program higher","#label_display":"above","#view_mode":"full","#language":"en","#field_name":"field_emphasize_in_your_language","#field_type":"list_string","#field_translatable":false,"#entity_type":"node","#bundle":"survey","#object":{"in_preview":null},"#items":{},"#formatter":"list_default","#is_multiple":true,"#third_party_settings":[],"0":{"#markup":"Cultural Literacy","#allowed_tags":["a","b","big","code","del","em","i","ins","pre","q","small","span","strong","sub","sup","tt","ol","ul","li","p","br","img"]},"1":{"#markup":"Employment opportunities","#allowed_tags":["a","b","big","code","del","em","i","ins","pre","q","small","span","strong","sub","sup","tt","ol","ul","li","p","br","img"]},"2":{"#markup":"Language Proficiency","#allowed_tags":["a","b","big","code","del","em","i","ins","pre","q","small","span","strong","sub","sup","tt","ol","ul","li","p","br","img"]},"#cache":{"contexts":[],"tags":[],"max-age":-1},"#weight":0},"field_emphasize_language_prog_pk":{"#cache":{"contexts":[],"tags":[],"max-age":-1},"#weight":0},"field_ethnic_profile_different":{"#cache":{"contexts":[],"tags":[],"max-age":-1},"#weight":0},"field_explain_certifications_nat":{"#cache":{"contexts":[],"tags":[],"max-age":-1},"#weight":0},"field_explain_do_your_require_an":{"#cache":{"contexts":[],"tags":[],"max-age":-1},"#weight":0},"field_explicit_example_prek":{"#cache":{"contexts":[],"tags":[],"max-age":-1},"#weight":0},"field_extra_curricular_attendanc":{"#cache":{"contexts":[],"tags":[],"max-age":-1},"#weight":0},"field_extra_curricular_enrollmen":{"#cache":{"contexts":[],"tags":[],"max-age":-1},"#weight":0},"field_factor_3_q_4_cbhls":{"#cache":{"contexts":[],"tags":[],"max-age":-1},"#weight":0},"field_factor_4_q_1_cbhls":{"#cache":{"contexts":[],"tags":[],"max-age":-1},"#weight":0},"field_factor_4_q_2_cbhls":{"#cache":{"contexts":[],"tags":[],"max-age":-1},"#weight":0},"field_factor_5_q_2_1_cbhls":{"#cache":{"contexts":[],"tags":[],"max-age":-1},"#weight":0},"field_factor_7_q_1_1_cbhls":{"#cache":{"contexts":[],"tags":[],"max-age":-1},"#weight":0},"field_factor_8_q_1_1_cbhls":{"#cache":{"contexts":[],"tags":[],"max-age":-1},"#weight":0},"field_family_obligations_attenda":{"#cache":{"contexts":[],"tags":[],"max-age":-1},"#weight":0},"field_family_obligations_enrollm":{"#cache":{"contexts":[],"tags":[],"max-age":-1},"#weight":0},"field_federal_":{"#cache":{"contexts":[],"tags":[],"max-age":-1},"#weight":0},"field_federal_funding_for_dlp_na":{"#cache":{"contexts":[],"tags":[],"max-age":-1},"#weight":0},"field_federal_sources_support_pk":{"#cache":{"contexts":[],"tags":[],"max-age":-1},"#weight":0},"field_first_language_speakers_in":{"#cache":{"contexts":[],"tags":[],"max-age":-1},"#weight":0},"field_free_and_reduced_lunch_nat":{"#cache":{"contexts":[],"tags":[],"max-age":-1},"#weight":0},"field_grades_taught_at_your_scho":{"#cache":{"contexts":[],"tags":[],"max-age":-1},"#weight":0},"field_groups_over_10p":{"#cache":{"contexts":[],"tags":[],"max-age":-1},"#weight":0},"field_groups_over_10p_native":{"#cache":{"contexts":[],"tags":[],"max-age":-1},"#weight":0},"field_has_enrollments_increased_":{"#cache":{"contexts":[],"tags":[],"max-age":-1},"#weight":0},"field_heritage_language_learners":{"#cache":{"contexts":[],"tags":[],"max-age":-1},"#weight":0},"field_high_school_students_cbhls":{"#cache":{"contexts":[],"tags":[],"max-age":-1},"#weight":0},"field_homework_and_other_attenda":{"#cache":{"contexts":[],"tags":[],"max-age":-1},"#weight":0},"field_homework_and_other_enroll":{"#cache":{"contexts":[],"tags":[],"max-age":-1},"#weight":0},"field_how_do_these_activities":{"#cache":{"contexts":[],"tags":[],"max-age":-1},"#weight":0},"field_how_important_is_the_impac":{"#cache":{"contexts":[],"tags":[],"max-age":-1},"#weight":0},"field_how_is_english_taught_nati":{"#cache":{"contexts":[],"tags":[],"max-age":-1},"#weight":0},"field_how_the_instructional_form":{"#cache":{"contexts":[],"tags":[],"max-age":-1},"#weight":0},"field_immersion_exp_huls_pk":{"#cache":{"contexts":[],"tags":[],"max-age":-1},"#weight":0},"field_immersion_experience_la_pk":{"#cache":{"contexts":[],"tags":[],"max-age":-1},"#weight":0},"field_immersion_experience_pk":{"#cache":{"contexts":[],"tags":[],"max-age":-1},"#weight":0},"field_incorporate_online_learnin":{"#theme":"field","#title":"incorporate online learning higher","#label_display":"above","#view_mode":"full","#language":"en","#field_name":"field_incorporate_online_learnin","#field_type":"list_string","#field_translatable":false,"#entity_type":"node","#bundle":"survey","#object":{"in_preview":null},"#items":{},"#formatter":"list_default","#is_multiple":false,"#third_party_settings":[],"0":{"#markup":"Yes","#allowed_tags":["a","b","big","code","del","em","i","ins","pre","q","small","span","strong","sub","sup","tt","ol","ul","li","p","br","img"]},"#cache":{"contexts":[],"tags":[],"max-age":-1},"#weight":0},"field_individual_lessons_or":{"#cache":{"contexts":[],"tags":[],"max-age":-1},"#weight":0},"field_individual_lessons_or_indi":{"#cache":{"contexts":[],"tags":[],"max-age":-1},"#weight":0},"field_instruction_methodologies_":{"#cache":{"contexts":[],"tags":[],"max-age":-1},"#weight":0},"field_kae_q16_1_native":{"#cache":{"contexts":[],"tags":[],"max-age":-1},"#weight":0},"field_kae_q3_explain_native":{"#cache":{"contexts":[],"tags":[],"max-age":-1},"#weight":0},"field_kae_q3_native":{"#cache":{"contexts":[],"tags":[],"max-age":-1},"#weight":0},"field_kindergarten_students_cbhl":{"#cache":{"contexts":[],"tags":[],"max-age":-1},"#weight":0},"field_language_immersion_opportu":{"#theme":"field","#title":"language immersion opportunities higher","#label_display":"above","#view_mode":"full","#language":"en","#field_name":"field_language_immersion_opportu","#field_type":"list_string","#field_translatable":false,"#entity_type":"node","#bundle":"survey","#object":{"in_preview":null},"#items":{},"#formatter":"list_default","#is_multiple":false,"#third_party_settings":[],"0":{"#markup":"Yes","#allowed_tags":["a","b","big","code","del","em","i","ins","pre","q","small","span","strong","sub","sup","tt","ol","ul","li","p","br","img"]},"#cache":{"contexts":[],"tags":[],"max-age":-1},"#weight":0},"field_language_medium_admin_nati":{"#cache":{"contexts":[],"tags":[],"max-age":-1},"#weight":0},"field_language_medium_assembly_n":{"#cache":{"contexts":[],"tags":[],"max-age":-1},"#weight":0},"field_language_medium_communicat":{"#cache":{"contexts":[],"tags":[],"max-age":-1},"#weight":0},"field_language_medium_operations":{"#cache":{"contexts":[],"tags":[],"max-age":-1},"#weight":0},"field_language_medium_parent_rea":{"#cache":{"contexts":[],"tags":[],"max-age":-1},"#weight":0},"field_language_of_general_academ":{"#cache":{"contexts":[],"tags":[],"max-age":-1},"#weight":0},"field_language_of_instruction_na":{"#cache":{"contexts":[],"tags":[],"max-age":-1},"#weight":0},"field_language_req_high_sub":{"#cache":{"contexts":[],"tags":[],"max-age":-1},"#weight":0},"field_language_requirement_higeh":{"#theme":"field","#title":"Language Requirement Higher","#label_display":"above","#view_mode":"full","#language":"en","#field_name":"field_language_requirement_higeh","#field_type":"list_string","#field_translatable":false,"#entity_type":"node","#bundle":"survey","#object":{"in_preview":null},"#items":{},"#formatter":"list_default","#is_multiple":false,"#third_party_settings":[],"0":{"#markup":"No","#allowed_tags":["a","b","big","code","del","em","i","ins","pre","q","small","span","strong","sub","sup","tt","ol","ul","li","p","br","img"]},"#cache":{"contexts":[],"tags":[],"max-age":-1},"#weight":0},"field_languages_added_in_past_5":{"#cache":{"contexts":[],"tags":[],"max-age":-1},"#weight":0},"field_languages_added_in_past_5y":{"#cache":{"contexts":[],"tags":[],"max-age":-1},"#weight":0},"field_languages_taught_at_your":{"#cache":{"contexts":[],"tags":[],"max-age":-1},"#weight":0},"field_latinx_headline":{"#cache":{"contexts":[],"tags":[],"max-age":-1},"#weight":0},"field_latinx_program_description":{"#cache":{"contexts":[],"tags":[],"max-age":-1},"#weight":0},"field_law_elder_to_be_teacher_na":{"#cache":{"contexts":[],"tags":[],"max-age":-1},"#weight":0},"field_lea_or_sea_offer":{"#cache":{"contexts":[],"tags":[],"max-age":-1},"#weight":0},"field_learners_who_speak_a_cbhls":{"#cache":{"contexts":[],"tags":[],"max-age":-1},"#weight":0},"field_learners_who_speak_c_cbhls":{"#cache":{"contexts":[],"tags":[],"max-age":-1},"#weight":0},"field_levels_of_language_higher":{"#cache":{"contexts":[],"tags":[],"max-age":-1},"#weight":0},"field_levels_of_language_prek":{"#cache":{"contexts":[],"tags":[],"max-age":-1},"#weight":0},"field_list_immersion_exp_huls_pk":{"#cache":{"contexts":[],"tags":[],"max-age":-1},"#weight":0},"field_list_immersion_exp_latin":{"#cache":{"contexts":[],"tags":[],"max-age":-1},"#weight":0},"field_list_immersion_exp_native":{"#cache":{"contexts":[],"tags":[],"max-age":-1},"#weight":0},"field_list_immersion_exp_prek":{"#cache":{"contexts":[],"tags":[],"max-age":-1},"#weight":0},"field_location_of_program_native":{"#cache":{"contexts":[],"tags":[],"max-age":-1},"#weight":0},"field_main_features_of_your_nati":{"#cache":{"contexts":[],"tags":[],"max-age":-1},"#weight":0},"field_main_features_of_your_stud":{"#cache":{"contexts":[],"tags":[],"max-age":-1},"#weight":0},"field_main_reasons_students_atte":{"#cache":{"contexts":[],"tags":[],"max-age":-1},"#weight":0},"field_main_sources_of_financial":{"#cache":{"contexts":[],"tags":[],"max-age":-1},"#weight":0},"field_methods_or_strategies_for_":{"#cache":{"contexts":[],"tags":[],"max-age":-1},"#weight":0},"field_middle_school_students_gra":{"#cache":{"contexts":[],"tags":[],"max-age":-1},"#weight":0},"field_minority_serve_inst_high_l":{"#theme":"field","#title":"Minority Serving Institution List","#label_display":"above","#view_mode":"full","#language":"en","#field_name":"field_minority_serve_inst_high_l","#field_type":"list_string","#field_translatable":false,"#entity_type":"node","#bundle":"survey","#object":{"in_preview":null},"#items":{},"#formatter":"list_default","#is_multiple":false,"#third_party_settings":[],"0":{"#markup":"Tribal College and University (TCU) (Please list the federally recognized Tribal affiliations)","#allowed_tags":["a","b","big","code","del","em","i","ins","pre","q","small","span","strong","sub","sup","tt","ol","ul","li","p","br","img"]},"#cache":{"contexts":[],"tags":[],"max-age":-1},"#weight":0},"field_minority_serve_inst_higher":{"#theme":"field","#title":"Minority Serving Institution","#label_display":"above","#view_mode":"full","#language":"en","#field_name":"field_minority_serve_inst_higher","#field_type":"list_string","#field_translatable":false,"#entity_type":"node","#bundle":"survey","#object":{"in_preview":null},"#items":{},"#formatter":"list_default","#is_multiple":false,"#third_party_settings":[],"0":{"#markup":"Yes, which type?","#allowed_tags":["a","b","big","code","del","em","i","ins","pre","q","small","span","strong","sub","sup","tt","ol","ul","li","p","br","img"]},"#cache":{"contexts":[],"tags":[],"max-age":-1},"#weight":0},"field_mirror_population_staff_pk":{"#cache":{"contexts":[],"tags":[],"max-age":-1},"#weight":0},"field_most_effective_communicati":{"#cache":{"contexts":[],"tags":[],"max-age":-1},"#weight":0},"field_multilingual_learners_cbhl":{"#cache":{"contexts":[],"tags":[],"max-age":-1},"#weight":0},"field_obstacles_huls_face":{"#cache":{"contexts":[],"tags":[],"max-age":-1},"#weight":0},"field_obstacles_latinx_face":{"#cache":{"contexts":[],"tags":[],"max-age":-1},"#weight":0},"field_obstacles_latinx_face_nati":{"#cache":{"contexts":[],"tags":[],"max-age":-1},"#weight":0},"field_obstacles_that_huls_face_h":{"#cache":{"contexts":[],"tags":[],"max-age":-1},"#weight":0},"field_offer_different_pathways":{"#cache":{"contexts":[],"tags":[],"max-age":-1},"#weight":0},"field_offer_in_service_professio":{"#theme":"field","#title":"offer in-service professional development higher","#label_display":"above","#view_mode":"full","#language":"en","#field_name":"field_offer_in_service_professio","#field_type":"list_string","#field_translatable":false,"#entity_type":"node","#bundle":"survey","#object":{"in_preview":null},"#items":{},"#formatter":"list_default","#is_multiple":false,"#third_party_settings":[],"0":{"#markup":"Yes","#allowed_tags":["a","b","big","code","del","em","i","ins","pre","q","small","span","strong","sub","sup","tt","ol","ul","li","p","br","img"]},"#cache":{"contexts":[],"tags":[],"max-age":-1},"#weight":0},"field_online_learning_acces_prek":{"#cache":{"contexts":[],"tags":[],"max-age":-1},"#weight":0},"field_online_learning_access_nat":{"#cache":{"contexts":[],"tags":[],"max-age":-1},"#weight":0},"field_optional_please_describe_o":{"#cache":{"contexts":[],"tags":[],"max-age":-1},"#weight":0},"field_other_attendance_cbhls":{"#cache":{"contexts":[],"tags":[],"max-age":-1},"#weight":0},"field_other_enrollment_":{"#cache":{"contexts":[],"tags":[],"max-age":-1},"#weight":0},"field_other_noh_cbhls":{"#cache":{"contexts":[],"tags":[],"max-age":-1},"#weight":0},"field_other_nowy_cbhls":{"#cache":{"contexts":[],"tags":[],"max-age":-1},"#weight":0},"field_outcomes_cbhls":{"#cache":{"contexts":[],"tags":[],"max-age":-1},"#weight":0},"field_outcomes_explanation_cbhls":{"#cache":{"contexts":[],"tags":[],"max-age":-1},"#weight":0},"field_partner_with_any_foreign":{"#cache":{"contexts":[],"tags":[],"max-age":-1},"#weight":0},"field_partnerships_help_prek":{"#cache":{"contexts":[],"tags":[],"max-age":-1},"#weight":0},"field_partnerships_with_philanth":{"#theme":"field","#title":"partnerships with philanthropic higher","#label_display":"above","#view_mode":"full","#language":"en","#field_name":"field_partnerships_with_philanth","#field_type":"list_string","#field_translatable":false,"#entity_type":"node","#bundle":"survey","#object":{"in_preview":null},"#items":{},"#formatter":"list_default","#is_multiple":false,"#third_party_settings":[],"0":{"#markup":"No","#allowed_tags":["a","b","big","code","del","em","i","ins","pre","q","small","span","strong","sub","sup","tt","ol","ul","li","p","br","img"]},"#cache":{"contexts":[],"tags":[],"max-age":-1},"#weight":0},"field_percent_of_already_speakin":{"#cache":{"contexts":[],"tags":[],"max-age":-1},"#weight":0},"field_please_provide_a_descripti":{"#cache":{"contexts":[],"tags":[],"max-age":-1},"#weight":0},"field_practice_1":{"#theme":"field","#title":"Practice 1","#label_display":"above","#view_mode":"full","#language":"en","#field_name":"field_practice_1","#field_type":"string_long","#field_translatable":false,"#entity_type":"node","#bundle":"survey","#object":{"in_preview":null},"#items":{},"#formatter":"basic_string","#is_multiple":false,"#third_party_settings":[],"0":{"#type":"inline_template","#template":"{{ value|nl2br }}","#context":{"value":"I\u1e37isa\u0121vik College incorporates I\u00f1upiaq language, culture and traditions into all aspects of the I\u00f1upiaq Studies Program. I\u00f1upiaq Studies hosts the I\u00f1upiaq Fine Arts Festival, and more recently, I\u00f1upiaq Language Lunch n\u2019 Learns, language classes are free, and are offered via Zoom."}},"#cache":{"contexts":[],"tags":[],"max-age":-1},"#weight":0},"field_practice_1_cbhls":{"#theme":"field","#title":"Practice 1 cbhls","#label_display":"above","#view_mode":"full","#language":"en","#field_name":"field_practice_1_cbhls","#field_type":"string_long","#field_translatable":false,"#entity_type":"node","#bundle":"survey","#object":{"in_preview":null},"#items":{},"#formatter":"basic_string","#is_multiple":false,"#third_party_settings":[],"0":{"#type":"inline_template","#template":"{{ value|nl2br }}","#context":{"value":"I\u1e37isa\u0121vik College incorporates I\u00f1upiaq language, culture and traditions into all aspects of the I\u00f1upiaq Studies Program. I\u00f1upiaq Studies hosts the I\u00f1upiaq Fine Arts Festival, and more recently, I\u00f1upiaq Language Lunch n\u2019 Learns, language classes are free, and are offered via Zoom."}},"#cache":{"contexts":[],"tags":[],"max-age":-1},"#weight":0},"field_practice_1_higher":{"#cache":{"contexts":[],"tags":[],"max-age":-1},"#weight":0},"field_practice_1_native":{"#theme":"field","#title":"Practice 1 native","#label_display":"above","#view_mode":"full","#language":"en","#field_name":"field_practice_1_native","#field_type":"string_long","#field_translatable":false,"#entity_type":"node","#bundle":"survey","#object":{"in_preview":null},"#items":{},"#formatter":"basic_string","#is_multiple":false,"#third_party_settings":[],"0":{"#type":"inline_template","#template":"{{ value|nl2br }}","#context":{"value":"I\u1e37isa\u0121vik College incorporates I\u00f1upiaq language, culture and traditions into all aspects of the I\u00f1upiaq Studies Program. I\u00f1upiaq Studies hosts the I\u00f1upiaq Fine Arts Festival, and more recently, I\u00f1upiaq Language Lunch n\u2019 Learns, language classes are free, and are offered via Zoom."}},"#cache":{"contexts":[],"tags":[],"max-age":-1},"#weight":0},"field_practice_2":{"#theme":"field","#title":"Practice 2","#label_display":"above","#view_mode":"full","#language":"en","#field_name":"field_practice_2","#field_type":"string_long","#field_translatable":false,"#entity_type":"node","#bundle":"survey","#object":{"in_preview":null},"#items":{},"#formatter":"basic_string","#is_multiple":false,"#third_party_settings":[],"0":{"#type":"inline_template","#template":"{{ value|nl2br }}","#context":{"value":"Every semester, the I\u00f1upiaq Studies Program puts on an I\u00f1upiaq Fine Arts Festival where students in I\u00f1upiaq Studies classes get to showcase projects that they have created. Originally, the I\u00f1upiaq Fine Arts Festival was a combination of students showing artsy projects they created and also students conducting speeches in I\u00f1upiaq. Recently, due to the program growing, we decided to have separate events for the arts and I\u00f1upiaq language, which is really exciting! I believe that one of the reasons why our program is growing is because people get to see what is happening in the program and the word gets out. "}},"#cache":{"contexts":[],"tags":[],"max-age":-1},"#weight":0},"field_practice_2_cbhls":{"#theme":"field","#title":"Practice 2 cbhls","#label_display":"above","#view_mode":"full","#language":"en","#field_name":"field_practice_2_cbhls","#field_type":"string_long","#field_translatable":false,"#entity_type":"node","#bundle":"survey","#object":{"in_preview":null},"#items":{},"#formatter":"basic_string","#is_multiple":false,"#third_party_settings":[],"0":{"#type":"inline_template","#template":"{{ value|nl2br }}","#context":{"value":"Every semester, the I\u00f1upiaq Studies Program puts on an I\u00f1upiaq Fine Arts Festival where students in I\u00f1upiaq Studies classes get to showcase projects that they have created. Originally, the I\u00f1upiaq Fine Arts Festival was a combination of students showing artsy projects they created and also students conducting speeches in I\u00f1upiaq. Recently, due to the program growing, we decided to have separate events for the arts and I\u00f1upiaq language, which is really exciting! I believe that one of the reasons why our program is growing is because people get to see what is happening in the program and the word gets out. "}},"#cache":{"contexts":[],"tags":[],"max-age":-1},"#weight":0},"field_practice_2_higher":{"#cache":{"contexts":[],"tags":[],"max-age":-1},"#weight":0},"field_practice_2_native":{"#theme":"field","#title":"Practice 2 native","#label_display":"above","#view_mode":"full","#language":"en","#field_name":"field_practice_2_native","#field_type":"string_long","#field_translatable":false,"#entity_type":"node","#bundle":"survey","#object":{"in_preview":null},"#items":{},"#formatter":"basic_string","#is_multiple":false,"#third_party_settings":[],"0":{"#type":"inline_template","#template":"{{ value|nl2br }}","#context":{"value":"Every semester, the I\u00f1upiaq Studies Program puts on an I\u00f1upiaq Fine Arts Festival where students in I\u00f1upiaq Studies classes get to showcase projects that they have created. Originally, the I\u00f1upiaq Fine Arts Festival was a combination of students showing artsy projects they created and also students conducting speeches in I\u00f1upiaq. Recently, due to the program growing, we decided to have separate events for the arts and I\u00f1upiaq language, which is really exciting! I believe that one of the reasons why our program is growing is because people get to see what is happening in the program and the word gets out. "}},"#cache":{"contexts":[],"tags":[],"max-age":-1},"#weight":0},"field_practice_3":{"#theme":"field","#title":"Practice 3","#label_display":"above","#view_mode":"full","#language":"en","#field_name":"field_practice_3","#field_type":"string_long","#field_translatable":false,"#entity_type":"node","#bundle":"survey","#object":{"in_preview":null},"#items":{},"#formatter":"basic_string","#is_multiple":false,"#third_party_settings":[],"0":{"#type":"inline_template","#template":"{{ value|nl2br }}","#context":{"value":"In addition, I\u00f1upiaq language classes are free at I\u1e37isa\u0121vik. This is a huge stepping stone for the institution as a whole. Students get to learn their language freely, which is how it should be. For students admitted into the I\u00f1upiaq Studies Program, a language class is required in order to graduate. However, for other programs at the college, language classes are not required, but it is good to note that all students are required to take any one I\u00f1upiaq Studies course of their choosing in order to graduate. \r\n\r\nThe distance student population taking I\u00d1U courses is growing. In order to accommodate all populations, language classes are offered via Zoom. \r\n"}},"#cache":{"contexts":[],"tags":[],"max-age":-1},"#weight":0},"field_practice_3_cbhls":{"#theme":"field","#title":"Practice 3 cbhls","#label_display":"above","#view_mode":"full","#language":"en","#field_name":"field_practice_3_cbhls","#field_type":"string_long","#field_translatable":false,"#entity_type":"node","#bundle":"survey","#object":{"in_preview":null},"#items":{},"#formatter":"basic_string","#is_multiple":false,"#third_party_settings":[],"0":{"#type":"inline_template","#template":"{{ value|nl2br }}","#context":{"value":"In addition, I\u00f1upiaq language classes are free at I\u1e37isa\u0121vik. This is a huge stepping stone for the institution as a whole. Students get to learn their language freely, which is how it should be. For students admitted into the I\u00f1upiaq Studies Program, a language class is required in order to graduate. However, for other programs at the college, language classes are not required, but it is good to note that all students are required to take any one I\u00f1upiaq Studies course of their choosing in order to graduate. \r\n\r\nThe distance student population taking I\u00d1U courses is growing. In order to accommodate all populations, language classes are offered via Zoom. \r\n"}},"#cache":{"contexts":[],"tags":[],"max-age":-1},"#weight":0},"field_practice_3_hi":{"#cache":{"contexts":[],"tags":[],"max-age":-1},"#weight":0},"field_practice_3_native":{"#theme":"field","#title":"Practice 3 native","#label_display":"above","#view_mode":"full","#language":"en","#field_name":"field_practice_3_native","#field_type":"string_long","#field_translatable":false,"#entity_type":"node","#bundle":"survey","#object":{"in_preview":null},"#items":{},"#formatter":"basic_string","#is_multiple":false,"#third_party_settings":[],"0":{"#type":"inline_template","#template":"{{ value|nl2br }}","#context":{"value":"In addition, I\u00f1upiaq language classes are free at I\u1e37isa\u0121vik. This is a huge stepping stone for the institution as a whole. Students get to learn their language freely, which is how it should be. For students admitted into the I\u00f1upiaq Studies Program, a language class is required in order to graduate. However, for other programs at the college, language classes are not required, but it is good to note that all students are required to take any one I\u00f1upiaq Studies course of their choosing in order to graduate. \r\n\r\nThe distance student population taking I\u00d1U courses is growing. In order to accommodate all populations, language classes are offered via Zoom. \r\n"}},"#cache":{"contexts":[],"tags":[],"max-age":-1},"#weight":0},"field_pre_and_post_program_asses":{"#theme":"field","#title":"Pre- and post-program assessments for students higher","#label_display":"above","#view_mode":"full","#language":"en","#field_name":"field_pre_and_post_program_asses","#field_type":"list_string","#field_translatable":false,"#entity_type":"node","#bundle":"survey","#object":{"in_preview":null},"#items":{},"#formatter":"list_default","#is_multiple":true,"#third_party_settings":[],"0":{"#markup":"Language proficiency","#allowed_tags":["a","b","big","code","del","em","i","ins","pre","q","small","span","strong","sub","sup","tt","ol","ul","li","p","br","img"]},"#cache":{"contexts":[],"tags":[],"max-age":-1},"#weight":0},"field_pre_k_students_cbhls":{"#cache":{"contexts":[],"tags":[],"max-age":-1},"#weight":0},"field_private_business_ent_high":{"#cache":{"contexts":[],"tags":[],"max-age":-1},"#weight":0},"field_private_business_enterpris":{"#theme":"field","#title":"private business enterprises that benefit HULs higher","#label_display":"above","#view_mode":"full","#language":"en","#field_name":"field_private_business_enterpris","#field_type":"list_string","#field_translatable":false,"#entity_type":"node","#bundle":"survey","#object":{"in_preview":null},"#items":{},"#formatter":"list_default","#is_multiple":false,"#third_party_settings":[],"0":{"#markup":"No","#allowed_tags":["a","b","big","code","del","em","i","ins","pre","q","small","span","strong","sub","sup","tt","ol","ul","li","p","br","img"]},"#cache":{"contexts":[],"tags":[],"max-age":-1},"#weight":0},"field_process_to_grant_certifica":{"#cache":{"contexts":[],"tags":[],"max-age":-1},"#weight":0},"field_professional_development_c":{"#cache":{"contexts":[],"tags":[],"max-age":-1},"#weight":0},"field_professional_development_e":{"#cache":{"contexts":[],"tags":[],"max-age":-1},"#weight":0},"field_program_conduct_higher":{"#theme":"field","#title":"program conduct any of the following as part of their in-country language immersion programs higher","#label_display":"above","#view_mode":"full","#language":"en","#field_name":"field_program_conduct_higher","#field_type":"list_string","#field_translatable":false,"#entity_type":"node","#bundle":"survey","#object":{"in_preview":null},"#items":{},"#formatter":"list_default","#is_multiple":true,"#third_party_settings":[],"0":{"#markup":"Pre- and post-program assessments for students","#allowed_tags":["a","b","big","code","del","em","i","ins","pre","q","small","span","strong","sub","sup","tt","ol","ul","li","p","br","img"]},"#cache":{"contexts":[],"tags":[],"max-age":-1},"#weight":0},"field_program_description":{"#theme":"field","#title":"Description","#label_display":"above","#view_mode":"full","#language":"en","#field_name":"field_program_description","#field_type":"string_long","#field_translatable":false,"#entity_type":"node","#bundle":"survey","#object":{"in_preview":null},"#items":{},"#formatter":"basic_string","#is_multiple":false,"#third_party_settings":[],"0":{"#type":"inline_template","#template":"{{ value|nl2br }}","#context":{"value":"The I\u00f1upiaq Studies Program at I\u1e37isa\u0121vik College offers students an opportunity to pursue certifications in I\u00f1upiaq culture and language and lead the way to complete an Associate of Arts degree. The program incorporates I\u00f1upiaq language, history, knowledge, values, and traditions to enhance student learning.\r\nThrough this program, students will be able to achieve an understanding of fundamental principles of I\u00f1upiaq grammatical construction, be able to read, write, and speak I\u00f1upiaq at the beginner level, be able to develop objects of art in the I\u00f1upiaq style, and demonstrate increased understanding of the relationship of I\u00f1upiaq culture to the land, sea and animals.\r\nIn addition to those who want to pursue certificates or a degree, I\u00f1upiaq Studies classes provides personal enrichment, which meets the individual needs and interests of the communities and students it serves. \r\n"}},"#cache":{"contexts":[],"tags":[],"max-age":-1},"#weight":0},"field_program_headline":{"#theme":"field","#title":"Program Headline","#label_display":"above","#view_mode":"full","#language":"en","#field_name":"field_program_headline","#field_type":"list_string","#field_translatable":false,"#entity_type":"node","#bundle":"survey","#object":{"in_preview":null},"#items":{},"#formatter":"list_default","#is_multiple":false,"#third_party_settings":[],"0":{"#markup":"I\u00f1upiaq Studies- Honor the Past While Training for the Future","#allowed_tags":["a","b","big","code","del","em","i","ins","pre","q","small","span","strong","sub","sup","tt","ol","ul","li","p","br","img"]},"#cache":{"contexts":[],"tags":[],"max-age":-1},"#weight":0},"field_program_partner_with_highr":{"#theme":"field","#title":"program partner with any of the following higher","#label_display":"above","#view_mode":"full","#language":"en","#field_name":"field_program_partner_with_highr","#field_type":"list_string","#field_translatable":false,"#entity_type":"node","#bundle":"survey","#object":{"in_preview":null},"#items":{},"#formatter":"list_default","#is_multiple":false,"#third_party_settings":[],"0":{"#markup":"Heritage communities","#allowed_tags":["a","b","big","code","del","em","i","ins","pre","q","small","span","strong","sub","sup","tt","ol","ul","li","p","br","img"]},"#cache":{"contexts":[],"tags":[],"max-age":-1},"#weight":0},"field_program_partner_with_prek":{"#cache":{"contexts":[],"tags":[],"max-age":-1},"#weight":0},"field_program_partnerships_prek":{"#cache":{"contexts":[],"tags":[],"max-age":-1},"#weight":0},"field_program_require_specific_r":{"#cache":{"contexts":[],"tags":[],"max-age":-1},"#weight":0},"field_programs_are_available_in_":{"#cache":{"contexts":[],"tags":[],"max-age":-1},"#weight":0},"field_programs_identified_above_":{"#cache":{"contexts":[],"tags":[],"max-age":-1},"#weight":0},"field_provide_description_of_sch":{"#cache":{"contexts":[],"tags":[],"max-age":-1},"#weight":0},"field_public_definition_higher":{"#theme":"field","#title":"public definition of  student success Higher","#label_display":"above","#view_mode":"full","#language":"en","#field_name":"field_public_definition_higher","#field_type":"list_string","#field_translatable":false,"#entity_type":"node","#bundle":"survey","#object":{"in_preview":null},"#items":{},"#formatter":"list_default","#is_multiple":false,"#third_party_settings":[],"0":{"#markup":"Yes","#allowed_tags":["a","b","big","code","del","em","i","ins","pre","q","small","span","strong","sub","sup","tt","ol","ul","li","p","br","img"]},"#cache":{"contexts":[],"tags":[],"max-age":-1},"#weight":0},"field_public_definition_of_std_n":{"#cache":{"contexts":[],"tags":[],"max-age":-1},"#weight":0},"field_public_definition_std_scss":{"#cache":{"contexts":[],"tags":[],"max-age":-1},"#weight":0},"field_public_efforts_inc_en_prek":{"#cache":{"contexts":[],"tags":[],"max-age":-1},"#weight":0},"field_public_efforts_to_increase":{"#theme":"field","#title":"public efforts to increase enrollments Higher","#label_display":"above","#view_mode":"full","#language":"en","#field_name":"field_public_efforts_to_increase","#field_type":"list_string","#field_translatable":false,"#entity_type":"node","#bundle":"survey","#object":{"in_preview":null},"#items":{},"#formatter":"list_default","#is_multiple":false,"#third_party_settings":[],"0":{"#markup":"Yes","#allowed_tags":["a","b","big","code","del","em","i","ins","pre","q","small","span","strong","sub","sup","tt","ol","ul","li","p","br","img"]},"#cache":{"contexts":[],"tags":[],"max-age":-1},"#weight":0},"field_public_efforts_to_native":{"#cache":{"contexts":[],"tags":[],"max-age":-1},"#weight":0},"field_public_private_higher":{"#theme":"field","#title":"Public Private Higher","#label_display":"above","#view_mode":"full","#language":"en","#field_name":"field_public_private_higher","#field_type":"list_string","#field_translatable":false,"#entity_type":"node","#bundle":"survey","#object":{"in_preview":null},"#items":{},"#formatter":"list_default","#is_multiple":false,"#third_party_settings":[],"0":{"#markup":"Public","#allowed_tags":["a","b","big","code","del","em","i","ins","pre","q","small","span","strong","sub","sup","tt","ol","ul","li","p","br","img"]},"#cache":{"contexts":[],"tags":[],"max-age":-1},"#weight":0},"field_publish_clear_description":{"#theme":"field","#title":"publish clear description higher","#label_display":"above","#view_mode":"full","#language":"en","#field_name":"field_publish_clear_description","#field_type":"list_string","#field_translatable":false,"#entity_type":"node","#bundle":"survey","#object":{"in_preview":null},"#items":{},"#formatter":"list_default","#is_multiple":false,"#third_party_settings":[],"0":{"#markup":"Yes","#allowed_tags":["a","b","big","code","del","em","i","ins","pre","q","small","span","strong","sub","sup","tt","ol","ul","li","p","br","img"]},"#cache":{"contexts":[],"tags":[],"max-age":-1},"#weight":0},"field_publish_clear_description_":{"#cache":{"contexts":[],"tags":[],"max-age":-1},"#weight":0},"field_publish_description_prek":{"#cache":{"contexts":[],"tags":[],"max-age":-1},"#weight":0},"field_reach_recruit_teachers_lat":{"#cache":{"contexts":[],"tags":[],"max-age":-1},"#weight":0},"field_reaching_to_recruit_teachr":{"#cache":{"contexts":[],"tags":[],"max-age":-1},"#weight":0},"field_receive_federal_fund_dlp":{"#cache":{"contexts":[],"tags":[],"max-age":-1},"#weight":0},"field_receive_funding_for_dlp_pk":{"#cache":{"contexts":[],"tags":[],"max-age":-1},"#weight":0},"field_receive_funding_for_lp_nat":{"#cache":{"contexts":[],"tags":[],"max-age":-1},"#weight":0},"field_receive_funding_for_lp_pk":{"#cache":{"contexts":[],"tags":[],"max-age":-1},"#weight":0},"field_receive_state_funding_for_":{"#cache":{"contexts":[],"tags":[],"max-age":-1},"#weight":0},"field_recruit_from_used_category":{"#cache":{"contexts":[],"tags":[],"max-age":-1},"#weight":0},"field_recruit_students_from_cate":{"#cache":{"contexts":[],"tags":[],"max-age":-1},"#weight":0},"field_recruit_teachers_huls_comm":{"#theme":"field","#title":"recruit teachers HULs Community higher","#label_display":"above","#view_mode":"full","#language":"en","#field_name":"field_recruit_teachers_huls_comm","#field_type":"list_string","#field_translatable":false,"#entity_type":"node","#bundle":"survey","#object":{"in_preview":null},"#items":{},"#formatter":"list_default","#is_multiple":false,"#third_party_settings":[],"0":{"#markup":"Yes","#allowed_tags":["a","b","big","code","del","em","i","ins","pre","q","small","span","strong","sub","sup","tt","ol","ul","li","p","br","img"]},"#cache":{"contexts":[],"tags":[],"max-age":-1},"#weight":0},"field_religious_obligations_atte":{"#cache":{"contexts":[],"tags":[],"max-age":-1},"#weight":0},"field_religious_obligations_enro":{"#cache":{"contexts":[],"tags":[],"max-age":-1},"#weight":0},"field_require_families_to_partic":{"#cache":{"contexts":[],"tags":[],"max-age":-1},"#weight":0},"field_require_to_have_certificat":{"#cache":{"contexts":[],"tags":[],"max-age":-1},"#weight":0},"field_requirement_list_families_":{"#cache":{"contexts":[],"tags":[],"max-age":-1},"#weight":0},"field_retain_huls_higher":{"#theme":"field","#title":"Retain HULs Higher","#label_display":"above","#view_mode":"full","#language":"en","#field_name":"field_retain_huls_higher","#field_type":"list_string","#field_translatable":false,"#entity_type":"node","#bundle":"survey","#object":{"in_preview":null},"#items":{},"#formatter":"list_default","#is_multiple":false,"#third_party_settings":[],"0":{"#markup":"Free language courses \u2022\tFree tuition \u2022\tZoom option","#allowed_tags":["a","b","big","code","del","em","i","ins","pre","q","small","span","strong","sub","sup","tt","ol","ul","li","p","br","img"]},"#cache":{"contexts":[],"tags":[],"max-age":-1},"#weight":0},"field_role_of_elders_and_integra":{"#cache":{"contexts":[],"tags":[],"max-age":-1},"#weight":0},"field_role_of_families_in_teachi":{"#cache":{"contexts":[],"tags":[],"max-age":-1},"#weight":0},"field_role_of_first_language_spe":{"#cache":{"contexts":[],"tags":[],"max-age":-1},"#weight":0},"field_role_of_first_language_wri":{"#cache":{"contexts":[],"tags":[],"max-age":-1},"#weight":0},"field_role_of_highly_professiona":{"#cache":{"contexts":[],"tags":[],"max-age":-1},"#weight":0},"field_role_of_limited_profession":{"#cache":{"contexts":[],"tags":[],"max-age":-1},"#weight":0},"field_saturday_or_sunday_class_":{"#cache":{"contexts":[],"tags":[],"max-age":-1},"#weight":0},"field_saturday_or_sunday_classes":{"#cache":{"contexts":[],"tags":[],"max-age":-1},"#weight":0},"field_school_accredited_native":{"#cache":{"contexts":[],"tags":[],"max-age":-1},"#weight":0},"field_school_meet_the_needs_of_l":{"#cache":{"contexts":[],"tags":[],"max-age":-1},"#weight":0},"field_school_name_native":{"#cache":{"contexts":[],"tags":[],"max-age":-1},"#weight":0},"field_school_provide_information":{"#cache":{"contexts":[],"tags":[],"max-age":-1},"#weight":0},"field_school_strive_to_provide_i":{"#cache":{"contexts":[],"tags":[],"max-age":-1},"#weight":0},"field_school_teach_any_other_lan":{"#cache":{"contexts":[],"tags":[],"max-age":-1},"#weight":0},"field_school_type":{"#cache":{"contexts":[],"tags":[],"max-age":-1},"#weight":0},"field_second_language_speakers_c":{"#cache":{"contexts":[],"tags":[],"max-age":-1},"#weight":0},"field_second_language_speakers_h":{"#cache":{"contexts":[],"tags":[],"max-age":-1},"#weight":0},"field_second_language_speakers_i":{"#cache":{"contexts":[],"tags":[],"max-age":-1},"#weight":0},"field_specific_requirements_for_":{"#cache":{"contexts":[],"tags":[],"max-age":-1},"#weight":0},"field_specific_requirements_list":{"#cache":{"contexts":[],"tags":[],"max-age":-1},"#weight":0},"field_state_program_fund_dlp_pk":{"#cache":{"contexts":[],"tags":[],"max-age":-1},"#weight":0},"field_state_program_fund_name_pk":{"#cache":{"contexts":[],"tags":[],"max-age":-1},"#weight":0},"field_sthnic_racial_profile":{"#cache":{"contexts":[],"tags":[],"max-age":-1},"#weight":0},"field_strategies_to_recruit_huls":{"#cache":{"contexts":[],"tags":[],"max-age":-1},"#weight":0},"field_strategies_to_recruit_stud":{"#cache":{"contexts":[],"tags":[],"max-age":-1},"#weight":0},"field_strategies_to_retain_and_s":{"#cache":{"contexts":[],"tags":[],"max-age":-1},"#weight":0},"field_strategies_to_retain_huls":{"#cache":{"contexts":[],"tags":[],"max-age":-1},"#weight":0},"field_strategies_to_retain_latin":{"#cache":{"contexts":[],"tags":[],"max-age":-1},"#weight":0},"field_strategies_you_use_to_recr":{"#cache":{"contexts":[],"tags":[],"max-age":-1},"#weight":0},"field_students_who_live_in_a_dif":{"#cache":{"contexts":[],"tags":[],"max-age":-1},"#weight":0},"field_students_who_live_in_the":{"#cache":{"contexts":[],"tags":[],"max-age":-1},"#weight":0},"field_study_of_second_lang_req":{"#cache":{"contexts":[],"tags":[],"max-age":-1},"#weight":0},"field_study_of_second_language":{"#cache":{"contexts":[],"tags":[],"max-age":-1},"#weight":0},"field_summer_camps_noh_cbhls":{"#cache":{"contexts":[],"tags":[],"max-age":-1},"#weight":0},"field_summer_camps_nowy_cbhls":{"#cache":{"contexts":[],"tags":[],"max-age":-1},"#weight":0},"field_summer_classes_noh_cbhls":{"#cache":{"contexts":[],"tags":[],"max-age":-1},"#weight":0},"field_summer_classes_nowy_cbhls":{"#cache":{"contexts":[],"tags":[],"max-age":-1},"#weight":0},"field_support_professional_devel":{"#theme":"field","#title":"support professional development focused higher","#label_display":"above","#view_mode":"full","#language":"en","#field_name":"field_support_professional_devel","#field_type":"list_string","#field_translatable":false,"#entity_type":"node","#bundle":"survey","#object":{"in_preview":null},"#items":{},"#formatter":"list_default","#is_multiple":true,"#third_party_settings":[],"0":{"#markup":"Emergent Bilingual Learners from NA & heritage\/immigrant communities","#allowed_tags":["a","b","big","code","del","em","i","ins","pre","q","small","span","strong","sub","sup","tt","ol","ul","li","p","br","img"]},"1":{"#markup":"a)\tInstructional techniques b)\tMaterials development  c)\tUse of authentic materials d)\tIncorporation of cultural learning in the language classroom","#allowed_tags":["a","b","big","code","del","em","i","ins","pre","q","small","span","strong","sub","sup","tt","ol","ul","li","p","br","img"]},"#cache":{"contexts":[],"tags":[],"max-age":-1},"#weight":0},"field_support_students_part_govp":{"#cache":{"contexts":[],"tags":[],"max-age":-1},"#weight":0},"field_support_students_part_prek":{"#cache":{"contexts":[],"tags":[],"max-age":-1},"#weight":0},"field_teacher_profile_reflect_hi":{"#theme":"field","#title":"teacher profile reflect higher","#label_display":"above","#view_mode":"full","#language":"en","#field_name":"field_teacher_profile_reflect_hi","#field_type":"list_string","#field_translatable":false,"#entity_type":"node","#bundle":"survey","#object":{"in_preview":null},"#items":{},"#formatter":"list_default","#is_multiple":false,"#third_party_settings":[],"0":{"#markup":"Yes","#allowed_tags":["a","b","big","code","del","em","i","ins","pre","q","small","span","strong","sub","sup","tt","ol","ul","li","p","br","img"]},"#cache":{"contexts":[],"tags":[],"max-age":-1},"#weight":0},"field_teachers_native_speaker_pk":{"#cache":{"contexts":[],"tags":[],"max-age":-1},"#weight":0},"field_title_1_school_native":{"#cache":{"contexts":[],"tags":[],"max-age":-1},"#weight":0},"field_title_one_school":{"#cache":{"contexts":[],"tags":[],"max-age":-1},"#weight":0},"field_transparency_accountabilit":{"#cache":{"contexts":[],"tags":[],"max-age":-1},"#weight":0},"field_type_of_financial_aid_do":{"#cache":{"contexts":[],"tags":[],"max-age":-1},"#weight":0},"field_type_of_program_native":{"#cache":{"contexts":[],"tags":[],"max-age":-1},"#weight":0},"field_types_of_instructional_for":{"#cache":{"contexts":[],"tags":[],"max-age":-1},"#weight":0},"field_types_of_language_learners":{"#cache":{"contexts":[],"tags":[],"max-age":-1},"#weight":0},"field_us_federal_government_prog":{"#cache":{"contexts":[],"tags":[],"max-age":-1},"#weight":0},"field_vision_strategic_planning_":{"#cache":{"contexts":[],"tags":[],"max-age":-1},"#weight":0},"field_weekday_evening_classes":{"#cache":{"contexts":[],"tags":[],"max-age":-1},"#weight":0},"field_weekday_evening_classes_no":{"#cache":{"contexts":[],"tags":[],"max-age":-1},"#weight":0},"field_were_these_added_native":{"#cache":{"contexts":[],"tags":[],"max-age":-1},"#weight":0},"field_were_these_added_result_p5":{"#cache":{"contexts":[],"tags":[],"max-age":-1},"#weight":0},"field_what_are_the_language_fact":{"#cache":{"contexts":[],"tags":[],"max-age":-1},"#weight":0},"field_what_percent_of_your_langu":{"#cache":{"contexts":[],"tags":[],"max-age":-1},"#weight":0},"field_which_group_of_learners_do":{"#cache":{"contexts":[],"tags":[],"max-age":-1},"#weight":0},"field_which_state_funds_for_dlp":{"#cache":{"contexts":[],"tags":[],"max-age":-1},"#weight":0},"field_which_state_funds_for_lp_n":{"#cache":{"contexts":[],"tags":[],"max-age":-1},"#weight":0},"field_work_attendance_cbhls":{"#cache":{"contexts":[],"tags":[],"max-age":-1},"#weight":0},"field_work_enrollment_cbhls":{"#cache":{"contexts":[],"tags":[],"max-age":-1},"#weight":0},"field_workforce_preparation_acti":{"#theme":"field","#title":"workforce preparation activities higher","#label_display":"above","#view_mode":"full","#language":"en","#field_name":"field_workforce_preparation_acti","#field_type":"list_string","#field_translatable":false,"#entity_type":"node","#bundle":"survey","#object":{"in_preview":null},"#items":{},"#formatter":"list_default","#is_multiple":true,"#third_party_settings":[],"0":{"#markup":"Yes","#allowed_tags":["a","b","big","code","del","em","i","ins","pre","q","small","span","strong","sub","sup","tt","ol","ul","li","p","br","img"]},"#cache":{"contexts":[],"tags":[],"max-age":-1},"#weight":0},"field_workforce_preparation_lisn":{"#theme":"field","#title":"Workforce Preparation Activity List native","#label_display":"above","#view_mode":"full","#language":"en","#field_name":"field_workforce_preparation_lisn","#field_type":"list_string","#field_translatable":false,"#entity_type":"node","#bundle":"survey","#object":{"in_preview":null},"#items":{},"#formatter":"list_default","#is_multiple":true,"#third_party_settings":[],"0":{"#markup":"Internships in an employment setting","#allowed_tags":["a","b","big","code","del","em","i","ins","pre","q","small","span","strong","sub","sup","tt","ol","ul","li","p","br","img"]},"#cache":{"contexts":[],"tags":[],"max-age":-1},"#weight":0},"field_workforce_preparation_list":{"#cache":{"contexts":[],"tags":[],"max-age":-1},"#weight":0},"field_workforce_preparation_nati":{"#cache":{"contexts":[],"tags":[],"max-age":-1},"#weight":0},"field_workforce_preparation_prek":{"#cache":{"contexts":[],"tags":[],"max-age":-1},"#weight":0},"field_year_the_school_was_establ":{"#cache":{"contexts":[],"tags":[],"max-age":-1},"#weight":0},"field_years_language_program_ofr":{"#cache":{"contexts":[],"tags":[],"max-age":-1},"#weight":0},"field_yes_which_other_language_t":{"#cache":{"contexts":[],"tags":[],"max-age":-1},"#weight":0},"field_your_program_include_any_o":{"#cache":{"contexts":[],"tags":[],"max-age":-1},"#weight":0},"field_your_school_been_able_to_a":{"#cache":{"contexts":[],"tags":[],"max-age":-1},"#weight":0},"field_your_school_communicate_wi":{"#cache":{"contexts":[],"tags":[],"max-age":-1},"#weight":0},"links":{"#lazy_builder":["Drupal\\node\\NodeViewBuilder::renderLinks",["1787","full","en",false,null]],"#weight":0},"body":{"#cache":{"contexts":[],"tags":[],"max-age":-1},"#weight":1},"field_survey_type":{"#theme":"field","#title":"Application Type","#label_display":"above","#view_mode":"full","#language":"en","#field_name":"field_survey_type","#field_type":"list_string","#field_translatable":false,"#entity_type":"node","#bundle":"survey","#object":{"in_preview":null},"#items":{},"#formatter":"list_default","#is_multiple":false,"#third_party_settings":[],"0":{"#markup":"Higher Education Institution","#allowed_tags":["a","b","big","code","del","em","i","ins","pre","q","small","span","strong","sub","sup","tt","ol","ul","li","p","br","img"]},"#cache":{"contexts":[],"tags":[],"max-age":-1},"#weight":2},"field_urbanicity":{"#cache":{"contexts":[],"tags":[],"max-age":-1},"#weight":4},"field_personal_first_name":{"#theme":"field","#title":"Personal First Name","#label_display":"above","#view_mode":"full","#language":"en","#field_name":"field_personal_first_name","#field_type":"list_string","#field_translatable":false,"#entity_type":"node","#bundle":"survey","#object":{"in_preview":null},"#items":{},"#formatter":"list_default","#is_multiple":false,"#third_party_settings":[],"0":{"#markup":"Jerica","#allowed_tags":["a","b","big","code","del","em","i","ins","pre","q","small","span","strong","sub","sup","tt","ol","ul","li","p","br","img"]},"#cache":{"contexts":[],"tags":[],"max-age":-1},"#weight":6},"field_school_name":{"#cache":{"contexts":[],"tags":[],"max-age":-1},"#weight":7},"field_school_district_field":{"#cache":{"contexts":[],"tags":[],"max-age":-1},"#weight":8},"field_program_website":{"#cache":{"contexts":[],"tags":[],"max-age":-1},"#weight":9},"field_program_name":{"#cache":{"contexts":[],"tags":[],"max-age":-1},"#weight":10},"field_personal_last_name":{"#theme":"field","#title":"Personal Last Name","#label_display":"above","#view_mode":"full","#language":"en","#field_name":"field_personal_last_name","#field_type":"list_string","#field_translatable":false,"#entity_type":"node","#bundle":"survey","#object":{"in_preview":null},"#items":{},"#formatter":"list_default","#is_multiple":false,"#third_party_settings":[],"0":{"#markup":"Leavitt","#allowed_tags":["a","b","big","code","del","em","i","ins","pre","q","small","span","strong","sub","sup","tt","ol","ul","li","p","br","img"]},"#cache":{"contexts":[],"tags":[],"max-age":-1},"#weight":11},"field_personal_email_address":{"#theme":"field","#title":"Personal Email Address","#label_display":"above","#view_mode":"full","#language":"en","#field_name":"field_personal_email_address","#field_type":"list_string","#field_translatable":false,"#entity_type":"node","#bundle":"survey","#object":{"in_preview":null},"#items":{},"#formatter":"list_default","#is_multiple":false,"#third_party_settings":[],"0":{"#markup":"recruitment@ilisagvik.edu","#allowed_tags":["a","b","big","code","del","em","i","ins","pre","q","small","span","strong","sub","sup","tt","ol","ul","li","p","br","img"]},"#cache":{"contexts":[],"tags":[],"max-age":-1},"#weight":12},"field_community_name":{"#cache":{"contexts":[],"tags":[],"max-age":-1},"#weight":13},"field_location_zip":{"#theme":"field","#title":"Location Zip","#label_display":"above","#view_mode":"full","#language":"en","#field_name":"field_location_zip","#field_type":"list_string","#field_translatable":false,"#entity_type":"node","#bundle":"survey","#object":{"in_preview":null},"#items":{},"#formatter":"list_default","#is_multiple":false,"#third_party_settings":[],"0":{"#markup":"99723","#allowed_tags":["a","b","big","code","del","em","i","ins","pre","q","small","span","strong","sub","sup","tt","ol","ul","li","p","br","img"]},"#cache":{"contexts":[],"tags":[],"max-age":-1},"#weight":14},"field_location_state":{"#theme":"field","#title":"Location State","#label_display":"above","#view_mode":"full","#language":"en","#field_name":"field_location_state","#field_type":"list_string","#field_translatable":false,"#entity_type":"node","#bundle":"survey","#object":{"in_preview":null},"#items":{},"#formatter":"list_default","#is_multiple":false,"#third_party_settings":[],"0":{"#markup":"Alaska","#allowed_tags":["a","b","big","code","del","em","i","ins","pre","q","small","span","strong","sub","sup","tt","ol","ul","li","p","br","img"]},"#cache":{"contexts":[],"tags":[],"max-age":-1},"#weight":15},"field_location_city":{"#theme":"field","#title":"Location City","#label_display":"above","#view_mode":"full","#language":"en","#field_name":"field_location_city","#field_type":"list_string","#field_translatable":false,"#entity_type":"node","#bundle":"survey","#object":{"in_preview":null},"#items":{},"#formatter":"list_default","#is_multiple":false,"#third_party_settings":[],"0":{"#markup":"Barrow","#allowed_tags":["a","b","big","code","del","em","i","ins","pre","q","small","span","strong","sub","sup","tt","ol","ul","li","p","br","img"]},"#cache":{"contexts":[],"tags":[],"max-age":-1},"#weight":16},"field_levels":{"#cache":{"contexts":[],"tags":[],"max-age":-1},"#weight":17},"field_institution_name":{"#theme":"field","#title":"Institution Name","#label_display":"above","#view_mode":"full","#language":"en","#field_name":"field_institution_name","#field_type":"list_string","#field_translatable":false,"#entity_type":"node","#bundle":"survey","#object":{"in_preview":null},"#items":{},"#formatter":"list_default","#is_multiple":false,"#third_party_settings":[],"0":{"#markup":"Ilisagvik College","#allowed_tags":["a","b","big","code","del","em","i","ins","pre","q","small","span","strong","sub","sup","tt","ol","ul","li","p","br","img"]},"#cache":{"contexts":[],"tags":[],"max-age":-1},"#weight":18},"field_free_reduced_lunch_field":{"#cache":{"contexts":[],"tags":[],"max-age":-1},"#weight":19},"field_authorized_ib_world_school":{"#cache":{"contexts":[],"tags":[],"max-age":-1},"#weight":23},"field_minority_students_field_7":{"#cache":{"contexts":[],"tags":[],"max-age":-1},"#weight":34},"field_minority_students_total":{"#cache":{"contexts":[],"tags":[],"max-age":-1},"#weight":35},"field_total_enrollment":{"#cache":{"contexts":[],"tags":[],"max-age":-1},"#weight":37},"field_survey_institution":{"#cache":{"contexts":[],"tags":[],"max-age":-1},"#weight":164},"field_type_of_institution_commun":{"#cache":{"contexts":[],"tags":[],"max-age":-1},"#weight":187},"field_type_of_institution_school":{"#cache":{"contexts":[],"tags":[],"max-age":-1},"#weight":188},"field_banner_1":{"#theme":"field","#title":"Banner 1","#label_display":"above","#view_mode":"full","#language":"en","#field_name":"field_banner_1","#field_type":"image","#field_translatable":false,"#entity_type":"node","#bundle":"survey","#object":{"in_preview":null},"#items":{},"#formatter":"image","#is_multiple":false,"#third_party_settings":[],"0":{"#theme":"image_formatter","#item":{},"#item_attributes":{"loading":"lazy"},"#image_style":"","#url":null,"#cache":{"tags":["file:978"],"contexts":[],"max-age":-1}},"#cache":{"contexts":[],"tags":[],"max-age":-1},"#weight":189},"field_banner_2":{"#theme":"field","#title":"Banner 2","#label_display":"above","#view_mode":"full","#language":"en","#field_name":"field_banner_2","#field_type":"image","#field_translatable":false,"#entity_type":"node","#bundle":"survey","#object":{"in_preview":null},"#items":{},"#formatter":"image","#is_multiple":false,"#third_party_settings":[],"0":{"#theme":"image_formatter","#item":{},"#item_attributes":{"loading":"lazy"},"#image_style":"","#url":null,"#cache":{"tags":["file:980"],"contexts":[],"max-age":-1}},"#cache":{"contexts":[],"tags":[],"max-age":-1},"#weight":190},"field_banner_3":{"#cache":{"contexts":[],"tags":[],"max-age":-1},"#weight":191},"field_type_of_institution_higher":{"#cache":{"contexts":[],"tags":[],"max-age":-1},"#weight":192},"field_type_of_classes_community":{"#cache":{"contexts":[],"tags":[],"max-age":-1},"#weight":193},"field_type_of_classes_higher":{"#cache":{"contexts":[],"tags":[],"max-age":-1},"#weight":194},"field_type_of_classes_student":{"#cache":{"contexts":[],"tags":[],"max-age":-1},"#weight":195},"field_languages_offered_communit":{"#cache":{"contexts":[],"tags":[],"max-age":-1},"#weight":196},"field_language_offered_7_4":{"#cache":{"contexts":[],"tags":[],"max-age":-1},"#weight":199},"field_language_offered_5_4":{"#cache":{"contexts":[],"tags":[],"max-age":-1},"#weight":200},"field_language_offered_6_1":{"#cache":{"contexts":[],"tags":[],"max-age":-1},"#weight":201},"field_language_offered_6_2":{"#cache":{"contexts":[],"tags":[],"max-age":-1},"#weight":202},"field_language_offered_6_3":{"#cache":{"contexts":[],"tags":[],"max-age":-1},"#weight":203},"field_language_offered_6_4":{"#cache":{"contexts":[],"tags":[],"max-age":-1},"#weight":204},"field_language_offered_7_1":{"#cache":{"contexts":[],"tags":[],"max-age":-1},"#weight":205},"field_language_offered_7_2":{"#cache":{"contexts":[],"tags":[],"max-age":-1},"#weight":206},"field_language_offered_7_3":{"#cache":{"contexts":[],"tags":[],"max-age":-1},"#weight":207},"field_language_offered_8_1":{"#cache":{"contexts":[],"tags":[],"max-age":-1},"#weight":208},"field_language_offered_5_2":{"#cache":{"contexts":[],"tags":[],"max-age":-1},"#weight":209},"field_language_offered_8_2":{"#cache":{"contexts":[],"tags":[],"max-age":-1},"#weight":210},"field_language_offered_8_3":{"#cache":{"contexts":[],"tags":[],"max-age":-1},"#weight":211},"field_language_offered_8_4":{"#cache":{"contexts":[],"tags":[],"max-age":-1},"#weight":212},"field_language_offered_9_1":{"#cache":{"contexts":[],"tags":[],"max-age":-1},"#weight":213},"field_language_offered_9_2":{"#cache":{"contexts":[],"tags":[],"max-age":-1},"#weight":214},"field_language_offered_9_3":{"#cache":{"contexts":[],"tags":[],"max-age":-1},"#weight":215},"field_language_offered_9_4":{"#cache":{"contexts":[],"tags":[],"max-age":-1},"#weight":216},"field_language_offered_5_3":{"#cache":{"contexts":[],"tags":[],"max-age":-1},"#weight":217},"field_language_offered_5_1":{"#cache":{"contexts":[],"tags":[],"max-age":-1},"#weight":218},"field_language_offered_2_2":{"#cache":{"contexts":[],"tags":[],"max-age":-1},"#weight":220},"field_language_offered_1_1":{"#cache":{"contexts":[],"tags":[],"max-age":-1},"#weight":224},"field_language_offered_1_3":{"#cache":{"contexts":[],"tags":[],"max-age":-1},"#weight":225},"field_language_offered_1_2":{"#cache":{"contexts":[],"tags":[],"max-age":-1},"#weight":226},"field_language_offered_1_4":{"#cache":{"contexts":[],"tags":[],"max-age":-1},"#weight":227},"field_language_offered_2_1":{"#cache":{"contexts":[],"tags":[],"max-age":-1},"#weight":228},"field_language_offered_2_3":{"#cache":{"contexts":[],"tags":[],"max-age":-1},"#weight":229},"field_language_offered_4_4":{"#cache":{"contexts":[],"tags":[],"max-age":-1},"#weight":230},"field_language_offered_2_4":{"#cache":{"contexts":[],"tags":[],"max-age":-1},"#weight":231},"field_language_offered_3_1":{"#cache":{"contexts":[],"tags":[],"max-age":-1},"#weight":232},"field_language_offered_3_2":{"#cache":{"contexts":[],"tags":[],"max-age":-1},"#weight":233},"field_language_offered_3_3":{"#cache":{"contexts":[],"tags":[],"max-age":-1},"#weight":234},"field_language_offered_4_1":{"#cache":{"contexts":[],"tags":[],"max-age":-1},"#weight":235},"field_language_offered_3_4":{"#cache":{"contexts":[],"tags":[],"max-age":-1},"#weight":236},"field_language_offered_4_2":{"#cache":{"contexts":[],"tags":[],"max-age":-1},"#weight":237},"field_language_offered_4_3":{"#cache":{"contexts":[],"tags":[],"max-age":-1},"#weight":238},"field_accreditation_higher_3":{"#theme":"field","#title":"Accreditation Higher 3","#label_display":"above","#view_mode":"full","#language":"en","#field_name":"field_accreditation_higher_3","#field_type":"list_string","#field_translatable":false,"#entity_type":"node","#bundle":"survey","#object":{"in_preview":null},"#items":{},"#formatter":"list_default","#is_multiple":true,"#third_party_settings":[],"0":{"#markup":"Northwest Commission on Colleges and Universities (NWCCU)","#allowed_tags":["a","b","big","code","del","em","i","ins","pre","q","small","span","strong","sub","sup","tt","ol","ul","li","p","br","img"]},"#cache":{"contexts":[],"tags":[],"max-age":-1},"#weight":254},"field_personal_detail_permission":{"#cache":{"contexts":[],"tags":[],"max-age":-1},"#weight":255},"field_language_students_needs":{"#cache":{"contexts":[],"tags":[],"max-age":-1},"#weight":257},"field_webform_submission_id":{"#theme":"field","#title":"webform_submission_id","#label_display":"above","#view_mode":"full","#language":"en","#field_name":"field_webform_submission_id","#field_type":"integer","#field_translatable":false,"#entity_type":"node","#bundle":"survey","#object":{"in_preview":null},"#items":{},"#formatter":"number_integer","#is_multiple":false,"#third_party_settings":[],"0":{"#markup":"3617"},"#cache":{"contexts":[],"tags":[],"max-age":-1},"#weight":556},"field_school_others":{"#cache":{"contexts":[],"tags":[],"max-age":-1},"#weight":560},"field_language_offered_1_5":{"#cache":{"contexts":[],"tags":[],"max-age":-1},"#weight":562},"field_language_offered_2_5":{"#cache":{"contexts":[],"tags":[],"max-age":-1},"#weight":563},"field_language_offered_3_5":{"#cache":{"contexts":[],"tags":[],"max-age":-1},"#weight":564},"field_language_offered_4_5":{"#cache":{"contexts":[],"tags":[],"max-age":-1},"#weight":565},"field_language_offered_5_5":{"#cache":{"contexts":[],"tags":[],"max-age":-1},"#weight":566},"field_language_offered_6_5":{"#cache":{"contexts":[],"tags":[],"max-age":-1},"#weight":567},"field_languages_offered_7_5":{"#cache":{"contexts":[],"tags":[],"max-age":-1},"#weight":568},"field_language_offered_9_5":{"#cache":{"contexts":[],"tags":[],"max-age":-1},"#weight":569},"field_language_offered_8_5":{"#cache":{"contexts":[],"tags":[],"max-age":-1},"#weight":570},"field_language_offered_10_5":{"#cache":{"contexts":[],"tags":[],"max-age":-1},"#weight":571}}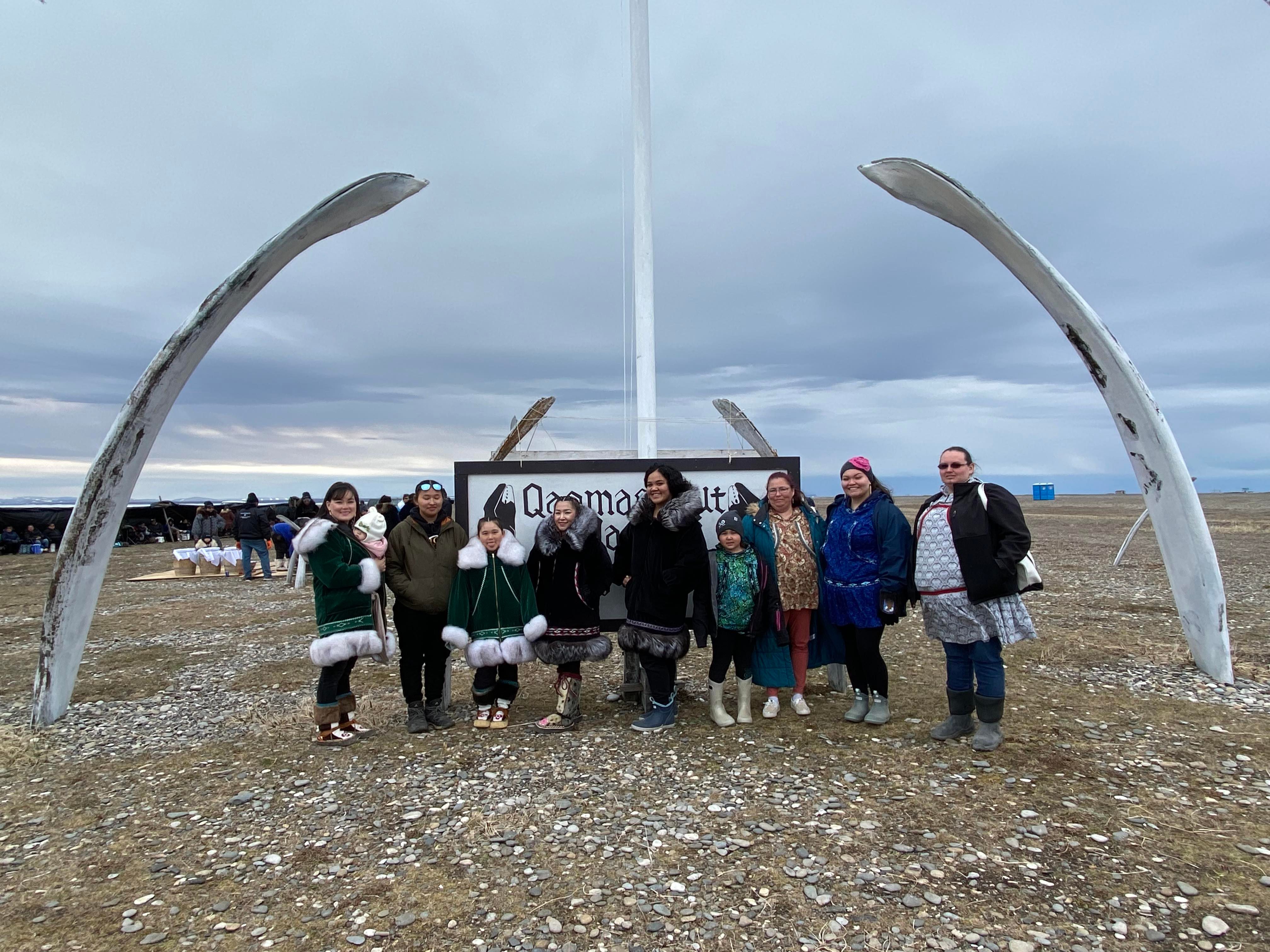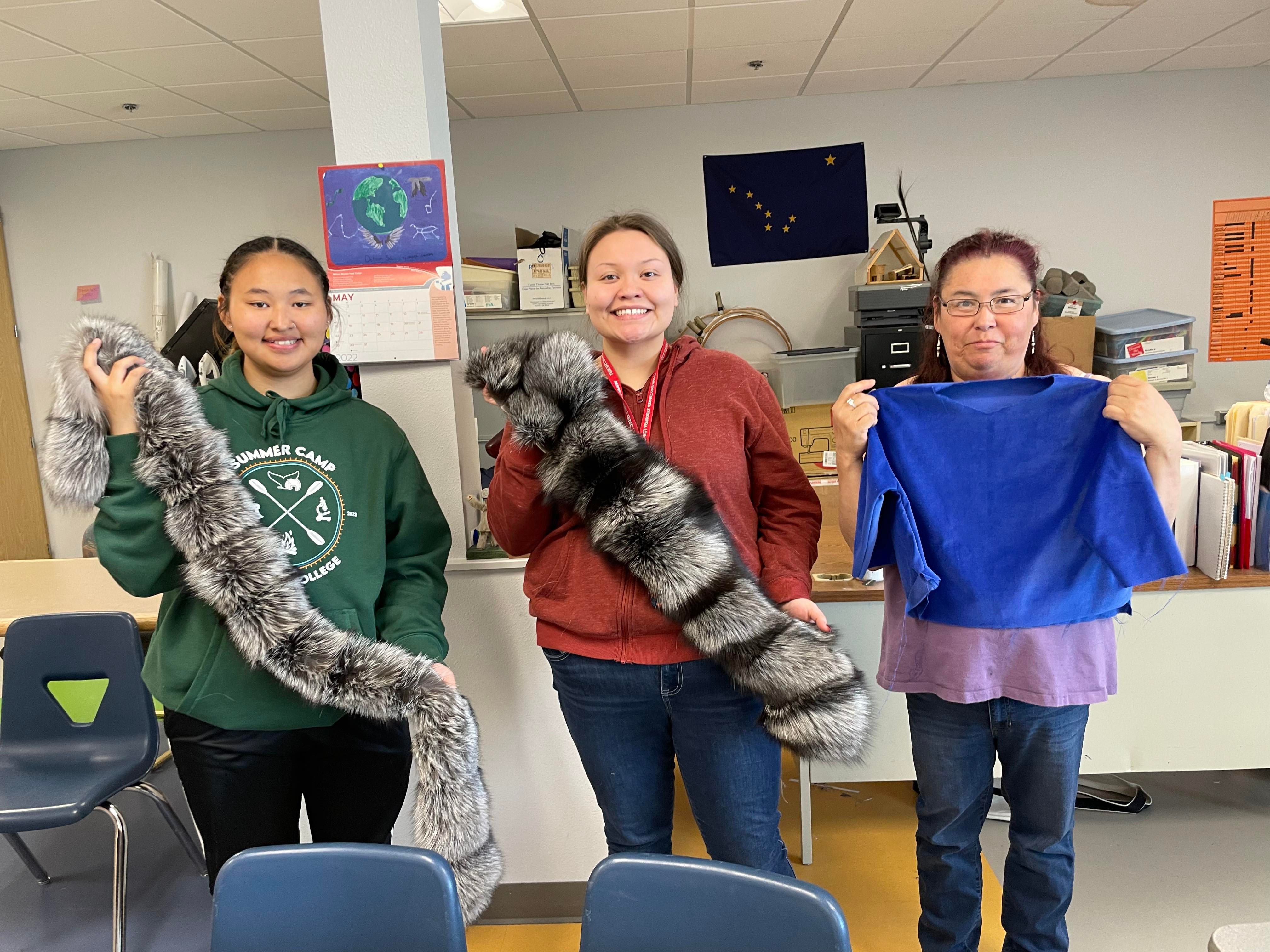 Higher Education Institution
Public | Two-year institutions
Ilisagvik College
Barrow, Alaska 99723
Iñupiaq Studies- Honor the Past While Training for the Future Institute Background
The Iñupiaq Studies Program at Iḷisaġvik College offers students an opportunity to pursue certifications in Iñupiaq culture and language and lead the way to complete an Associate of Arts degree. The program incorporates Iñupiaq language, history, knowledge, values, and traditions to enhance student learning.
Through this program, students will be able to achieve an understanding of fundamental principles of Iñupiaq grammatical construction, be able to read, write, and speak Iñupiaq at the beginner level, be able to develop objects of art in the Iñupiaq style, and demonstrate increased understanding of the relationship of Iñupiaq culture to the land, sea and animals.
In addition to those who want to pursue certificates or a degree, Iñupiaq Studies classes provides personal enrichment, which meets the individual needs and interests of the communities and students it serves.

Access
Accountability
Keys to access and accountability
Selected Section
Improve Access for all learners in more languages
Techniques to Retain HULs
Free language courses • Free tuition • Zoom option
Offer classes specifically targeted to HULs
Adapt delivery modes to HULs
Specific practices that are the reasons your HULs enjoy success in your program
Practice 1
Iḷisaġvik College incorporates Iñupiaq language, culture and traditions into all aspects of the Iñupiaq Studies Program. Iñupiaq Studies hosts the Iñupiaq Fine Arts Festival, and more recently, Iñupiaq Language Lunch n' Learns, language classes are free, and are offered via Zoom.
Practice 2
Every semester, the Iñupiaq Studies Program puts on an Iñupiaq Fine Arts Festival where students in Iñupiaq Studies classes get to showcase projects that they have created. Originally, the Iñupiaq Fine Arts Festival was a combination of students showing artsy projects they created and also students conducting speeches in Iñupiaq. Recently, due to the program growing, we decided to have separate events for the arts and Iñupiaq language, which is really exciting! I believe that one of the reasons why our program is growing is because people get to see what is happening in the program and the word gets out.
Practice 3
In addition, Iñupiaq language classes are free at Iḷisaġvik. This is a huge stepping stone for the institution as a whole. Students get to learn their language freely, which is how it should be. For students admitted into the Iñupiaq Studies Program, a language class is required in order to graduate. However, for other programs at the college, language classes are not required, but it is good to note that all students are required to take any one Iñupiaq Studies course of their choosing in order to graduate.

The distance student population taking IÑU courses is growing. In order to accommodate all populations, language classes are offered via Zoom.

Increase ACCOUNTABILITY Through Transparency And Documentation
Program publishes clear description of its goals and requirements
Program makes public its efforts to increase HUL enrollments
Program makes public its definition of student success
Program incorporates online learning in order to increase access and/or improve learning
Co-curricular Offerings
History, economics, social sciences
Performing and fine arts
Emphasize in your language program
Cultural Literacy
Employment opportunities
Language Proficiency
Implement any workforce preparation activities
Yes
Internships in an employment setting
Support co-curricular collaborations
Keys to access and Accountability
Recruit teachers from HUL communities
Offer in-service professional development
Support professional development focused
Emergent Bilingual Learners from NA & heritage/immigrant communities
a) Instructional techniques b) Materials development c) Use of authentic materials d) Incorporation of cultural learning in the language classroom
Program partner with any of the following
Private business enterprises that benefit HULs
Partnerships with philanthropic
Language immersion opportunities
Program conduct any of the following as part of their in-country language immersion programs
Pre- and post-program assessments for students
Institution Information
Institution classified as a Minority Serving
Yes, Tribal College and University (TCU) (Please list the federally recognized Tribal affiliations)
Actively Recruit Students from following groups
Accreditation
Northwest Commission on Colleges and Universities (NWCCU)