{"field__delivery_modes_to_huls_hi":{"#cache":{"contexts":[],"tags":[],"max-age":-1},"#weight":0},"field__partnerships_supported_ph":{"#theme":"field","#title":" partnerships supported phil higher","#label_display":"above","#view_mode":"full","#language":"en","#field_name":"field__partnerships_supported_ph","#field_type":"list_string","#field_translatable":false,"#entity_type":"node","#bundle":"survey","#object":{"in_preview":null},"#items":{},"#formatter":"list_default","#is_multiple":false,"#third_party_settings":[],"0":{"#markup":"Overseas programs","#allowed_tags":["a","b","big","code","del","em","i","ins","pre","q","small","span","strong","sub","sup","tt","ol","ul","li","p","br","img"]},"#cache":{"contexts":[],"tags":[],"max-age":-1},"#weight":0},"field_accept_following_do_you_ac":{"#cache":{"contexts":[],"tags":[],"max-age":-1},"#weight":0},"field_access_q1_higher":{"#theme":"field","#title":"Access Q1 Higher","#label_display":"above","#view_mode":"full","#language":"en","#field_name":"field_access_q1_higher","#field_type":"list_string","#field_translatable":false,"#entity_type":"node","#bundle":"survey","#object":{"in_preview":null},"#items":{},"#formatter":"list_default","#is_multiple":true,"#third_party_settings":[],"0":{"#markup":"Targeted recruitment initiatives, local and\/or national","#allowed_tags":["a","b","big","code","del","em","i","ins","pre","q","small","span","strong","sub","sup","tt","ol","ul","li","p","br","img"]},"1":{"#markup":"Campus outreach across departments and student organizations","#allowed_tags":["a","b","big","code","del","em","i","ins","pre","q","small","span","strong","sub","sup","tt","ol","ul","li","p","br","img"]},"2":{"#markup":"Summer programming","#allowed_tags":["a","b","big","code","del","em","i","ins","pre","q","small","span","strong","sub","sup","tt","ol","ul","li","p","br","img"]},"3":{"#markup":"Community outreach","#allowed_tags":["a","b","big","code","del","em","i","ins","pre","q","small","span","strong","sub","sup","tt","ol","ul","li","p","br","img"]},"4":{"#markup":"Social media","#allowed_tags":["a","b","big","code","del","em","i","ins","pre","q","small","span","strong","sub","sup","tt","ol","ul","li","p","br","img"]},"#cache":{"contexts":[],"tags":[],"max-age":-1},"#weight":0},"field_access_q1_native":{"#cache":{"contexts":[],"tags":[],"max-age":-1},"#weight":0},"field_access_q3_a_native":{"#cache":{"contexts":[],"tags":[],"max-age":-1},"#weight":0},"field_access_q3_b_native":{"#cache":{"contexts":[],"tags":[],"max-age":-1},"#weight":0},"field_access_q3_c_native":{"#cache":{"contexts":[],"tags":[],"max-age":-1},"#weight":0},"field_access_q3_d_native":{"#cache":{"contexts":[],"tags":[],"max-age":-1},"#weight":0},"field_access_q3_e_native":{"#cache":{"contexts":[],"tags":[],"max-age":-1},"#weight":0},"field_access_q3_f_native":{"#cache":{"contexts":[],"tags":[],"max-age":-1},"#weight":0},"field_access_q3_g_name_native":{"#cache":{"contexts":[],"tags":[],"max-age":-1},"#weight":0},"field_access_q3_g_value_native":{"#cache":{"contexts":[],"tags":[],"max-age":-1},"#weight":0},"field_accreditation_higher":{"#cache":{"contexts":[],"tags":[],"max-age":-1},"#weight":0},"field_accreditation_higher_2":{"#cache":{"contexts":[],"tags":[],"max-age":-1},"#weight":0},"field_actively_recruit_huls":{"#cache":{"contexts":[],"tags":[],"max-age":-1},"#weight":0},"field_actively_recruit_latinx":{"#cache":{"contexts":[],"tags":[],"max-age":-1},"#weight":0},"field_actively_recruit_students":{"#theme":"field","#title":"Actively recruit students higher","#label_display":"above","#view_mode":"full","#language":"en","#field_name":"field_actively_recruit_students","#field_type":"list_string","#field_translatable":false,"#entity_type":"node","#bundle":"survey","#object":{"in_preview":null},"#items":{},"#formatter":"list_default","#is_multiple":false,"#third_party_settings":[],"0":{"#markup":"American Indians","#allowed_tags":["a","b","big","code","del","em","i","ins","pre","q","small","span","strong","sub","sup","tt","ol","ul","li","p","br","img"]},"#cache":{"contexts":[],"tags":[],"max-age":-1},"#weight":0},"field_activities_do_these_partne":{"#cache":{"contexts":[],"tags":[],"max-age":-1},"#weight":0},"field_activities_in_courses_in_y":{"#cache":{"contexts":[],"tags":[],"max-age":-1},"#weight":0},"field_additional_activities_do":{"#cache":{"contexts":[],"tags":[],"max-age":-1},"#weight":0},"field_additional_language_latinx":{"#cache":{"contexts":[],"tags":[],"max-age":-1},"#weight":0},"field_adults_cbhls":{"#cache":{"contexts":[],"tags":[],"max-age":-1},"#weight":0},"field_after_school_activities_at":{"#cache":{"contexts":[],"tags":[],"max-age":-1},"#weight":0},"field_after_school_activities_en":{"#cache":{"contexts":[],"tags":[],"max-age":-1},"#weight":0},"field_after_school_classes_noh_c":{"#cache":{"contexts":[],"tags":[],"max-age":-1},"#weight":0},"field_after_school_classes_nowy":{"#cache":{"contexts":[],"tags":[],"max-age":-1},"#weight":0},"field_are_dual_language_teachers":{"#cache":{"contexts":[],"tags":[],"max-age":-1},"#weight":0},"field_are_staff_required_to_spea":{"#cache":{"contexts":[],"tags":[],"max-age":-1},"#weight":0},"field_assess_language_outcome_hi":{"#theme":"field","#title":"assess language outcomes higher","#label_display":"above","#view_mode":"full","#language":"en","#field_name":"field_assess_language_outcome_hi","#field_type":"list_integer","#field_translatable":false,"#entity_type":"node","#bundle":"survey","#object":{"in_preview":null},"#items":{},"#formatter":"list_default","#is_multiple":true,"#third_party_settings":[],"0":{"#markup":"0","#allowed_tags":["a","b","big","code","del","em","i","ins","pre","q","small","span","strong","sub","sup","tt","ol","ul","li","p","br","img"]},"1":{"#markup":"0","#allowed_tags":["a","b","big","code","del","em","i","ins","pre","q","small","span","strong","sub","sup","tt","ol","ul","li","p","br","img"]},"#cache":{"contexts":[],"tags":[],"max-age":-1},"#weight":0},"field_assess_language_outcomes":{"#cache":{"contexts":[],"tags":[],"max-age":-1},"#weight":0},"field_authorized_ib_world_native":{"#cache":{"contexts":[],"tags":[],"max-age":-1},"#weight":0},"field_average_number_of_students":{"#cache":{"contexts":[],"tags":[],"max-age":-1},"#weight":0},"field_average_number_of_teachers":{"#cache":{"contexts":[],"tags":[],"max-age":-1},"#weight":0},"field_background_q8_other_field":{"#cache":{"contexts":[],"tags":[],"max-age":-1},"#weight":0},"field_background_q8_other_fieldh":{"#cache":{"contexts":[],"tags":[],"max-age":-1},"#weight":0},"field_background_q8_other_fieldn":{"#cache":{"contexts":[],"tags":[],"max-age":-1},"#weight":0},"field_background_that_teachers_h":{"#cache":{"contexts":[],"tags":[],"max-age":-1},"#weight":0},"field_can_you_give_an_explicit_e":{"#cache":{"contexts":[],"tags":[],"max-age":-1},"#weight":0},"field_certification_for_subject_":{"#cache":{"contexts":[],"tags":[],"max-age":-1},"#weight":0},"field_characteristics_of_student":{"#cache":{"contexts":[],"tags":[],"max-age":-1},"#weight":0},"field_classes_specifically_targe":{"#theme":"field","#title":"Classes specifically targeted to HULs Higher","#label_display":"above","#view_mode":"full","#language":"en","#field_name":"field_classes_specifically_targe","#field_type":"list_string","#field_translatable":false,"#entity_type":"node","#bundle":"survey","#object":{"in_preview":null},"#items":{},"#formatter":"list_default","#is_multiple":false,"#third_party_settings":[],"0":{"#markup":"No","#allowed_tags":["a","b","big","code","del","em","i","ins","pre","q","small","span","strong","sub","sup","tt","ol","ul","li","p","br","img"]},"#cache":{"contexts":[],"tags":[],"max-age":-1},"#weight":0},"field_classification_of_higher":{"#theme":"field","#title":"Classification of Higher","#label_display":"above","#view_mode":"full","#language":"en","#field_name":"field_classification_of_higher","#field_type":"list_string","#field_translatable":false,"#entity_type":"node","#bundle":"survey","#object":{"in_preview":null},"#items":{},"#formatter":"list_default","#is_multiple":false,"#third_party_settings":[],"0":{"#markup":"Four-year institutions","#allowed_tags":["a","b","big","code","del","em","i","ins","pre","q","small","span","strong","sub","sup","tt","ol","ul","li","p","br","img"]},"#cache":{"contexts":[],"tags":[],"max-age":-1},"#weight":0},"field_co_curricular_collaboratio":{"#theme":"field","#title":"co-curricular collaborations higher","#label_display":"above","#view_mode":"full","#language":"en","#field_name":"field_co_curricular_collaboratio","#field_type":"list_string","#field_translatable":false,"#entity_type":"node","#bundle":"survey","#object":{"in_preview":null},"#items":{},"#formatter":"list_default","#is_multiple":true,"#third_party_settings":[],"0":{"#markup":"Professional teacher association programs, seminars, workshops","#allowed_tags":["a","b","big","code","del","em","i","ins","pre","q","small","span","strong","sub","sup","tt","ol","ul","li","p","br","img"]},"1":{"#markup":"Other campus language programs","#allowed_tags":["a","b","big","code","del","em","i","ins","pre","q","small","span","strong","sub","sup","tt","ol","ul","li","p","br","img"]},"2":{"#markup":"K-12 collaborations","#allowed_tags":["a","b","big","code","del","em","i","ins","pre","q","small","span","strong","sub","sup","tt","ol","ul","li","p","br","img"]},"#cache":{"contexts":[],"tags":[],"max-age":-1},"#weight":0},"field_co_curricular_offerings_hi":{"#theme":"field","#title":"co-curricular offerings higher","#label_display":"above","#view_mode":"full","#language":"en","#field_name":"field_co_curricular_offerings_hi","#field_type":"list_string","#field_translatable":false,"#entity_type":"node","#bundle":"survey","#object":{"in_preview":null},"#items":{},"#formatter":"list_default","#is_multiple":true,"#third_party_settings":[],"0":{"#markup":"The goal of the Flagship Program is for students to pursue any of the 200 majors that PSU offers and then add Russian to that major. Inside the Russian course offerings, we do offer content about the geography, history, politics, environmental issues etc ","#allowed_tags":["a","b","big","code","del","em","i","ins","pre","q","small","span","strong","sub","sup","tt","ol","ul","li","p","br","img"]},"#cache":{"contexts":[],"tags":[],"max-age":-1},"#weight":0},"field_cultural_integration_a_fac":{"#cache":{"contexts":[],"tags":[],"max-age":-1},"#weight":0},"field_curriculum_and_instruction":{"#cache":{"contexts":[],"tags":[],"max-age":-1},"#weight":0},"field_curriculum_instruction_exp":{"#cache":{"contexts":[],"tags":[],"max-age":-1},"#weight":0},"field_describe_any_educational":{"#cache":{"contexts":[],"tags":[],"max-age":-1},"#weight":0},"field_different_types_of_classes":{"#cache":{"contexts":[],"tags":[],"max-age":-1},"#weight":0},"field_dlp_teachers_considered_la":{"#cache":{"contexts":[],"tags":[],"max-age":-1},"#weight":0},"field_do_staff_administrators":{"#cache":{"contexts":[],"tags":[],"max-age":-1},"#weight":0},"field_do_staff_administrators_se":{"#cache":{"contexts":[],"tags":[],"max-age":-1},"#weight":0},"field_do_you_accept_teachers":{"#cache":{"contexts":[],"tags":[],"max-age":-1},"#weight":0},"field_do_you_have_policy_and_eff":{"#cache":{"contexts":[],"tags":[],"max-age":-1},"#weight":0},"field_do_you_have_policy_and_lis":{"#cache":{"contexts":[],"tags":[],"max-age":-1},"#weight":0},"field_do_you_make_available_to_y":{"#cache":{"contexts":[],"tags":[],"max-age":-1},"#weight":0},"field_do_your_require_any_certif":{"#cache":{"contexts":[],"tags":[],"max-age":-1},"#weight":0},"field_does_your_lea_or_sea_offer":{"#cache":{"contexts":[],"tags":[],"max-age":-1},"#weight":0},"field_does_your_program_have_any":{"#cache":{"contexts":[],"tags":[],"max-age":-1},"#weight":0},"field_does_your_program_reach_ou":{"#cache":{"contexts":[],"tags":[],"max-age":-1},"#weight":0},"field_does_your_school_community":{"#cache":{"contexts":[],"tags":[],"max-age":-1},"#weight":0},"field_does_your_school_gov_nativ":{"#cache":{"contexts":[],"tags":[],"max-age":-1},"#weight":0},"field_does_your_school_offer":{"#cache":{"contexts":[],"tags":[],"max-age":-1},"#weight":0},"field_does_your_school_program_p":{"#cache":{"contexts":[],"tags":[],"max-age":-1},"#weight":0},"field_does_your_teaching_staff_m":{"#cache":{"contexts":[],"tags":[],"max-age":-1},"#weight":0},"field_elementary_school_students":{"#cache":{"contexts":[],"tags":[],"max-age":-1},"#weight":0},"field_em":{"#cache":{"contexts":[],"tags":[],"max-age":-1},"#weight":0},"field_emphasize_in_your_language":{"#theme":"field","#title":"emphasize in your language program higher","#label_display":"above","#view_mode":"full","#language":"en","#field_name":"field_emphasize_in_your_language","#field_type":"list_string","#field_translatable":false,"#entity_type":"node","#bundle":"survey","#object":{"in_preview":null},"#items":{},"#formatter":"list_default","#is_multiple":true,"#third_party_settings":[],"0":{"#markup":"Cultural Literacy","#allowed_tags":["a","b","big","code","del","em","i","ins","pre","q","small","span","strong","sub","sup","tt","ol","ul","li","p","br","img"]},"1":{"#markup":"Employment opportunities","#allowed_tags":["a","b","big","code","del","em","i","ins","pre","q","small","span","strong","sub","sup","tt","ol","ul","li","p","br","img"]},"2":{"#markup":"Global citizenship, cosmopolitanism","#allowed_tags":["a","b","big","code","del","em","i","ins","pre","q","small","span","strong","sub","sup","tt","ol","ul","li","p","br","img"]},"3":{"#markup":"Human diversity, including linguistic diversity","#allowed_tags":["a","b","big","code","del","em","i","ins","pre","q","small","span","strong","sub","sup","tt","ol","ul","li","p","br","img"]},"4":{"#markup":"Intercultural Competence","#allowed_tags":["a","b","big","code","del","em","i","ins","pre","q","small","span","strong","sub","sup","tt","ol","ul","li","p","br","img"]},"5":{"#markup":"Language Proficiency","#allowed_tags":["a","b","big","code","del","em","i","ins","pre","q","small","span","strong","sub","sup","tt","ol","ul","li","p","br","img"]},"6":{"#markup":"Usage\/immersion learning","#allowed_tags":["a","b","big","code","del","em","i","ins","pre","q","small","span","strong","sub","sup","tt","ol","ul","li","p","br","img"]},"#cache":{"contexts":[],"tags":[],"max-age":-1},"#weight":0},"field_emphasize_language_prog_pk":{"#cache":{"contexts":[],"tags":[],"max-age":-1},"#weight":0},"field_ethnic_profile_different":{"#cache":{"contexts":[],"tags":[],"max-age":-1},"#weight":0},"field_explain_certifications_nat":{"#cache":{"contexts":[],"tags":[],"max-age":-1},"#weight":0},"field_explain_do_your_require_an":{"#cache":{"contexts":[],"tags":[],"max-age":-1},"#weight":0},"field_explicit_example_prek":{"#cache":{"contexts":[],"tags":[],"max-age":-1},"#weight":0},"field_extra_curricular_attendanc":{"#cache":{"contexts":[],"tags":[],"max-age":-1},"#weight":0},"field_extra_curricular_enrollmen":{"#cache":{"contexts":[],"tags":[],"max-age":-1},"#weight":0},"field_factor_3_q_4_cbhls":{"#cache":{"contexts":[],"tags":[],"max-age":-1},"#weight":0},"field_factor_4_q_1_cbhls":{"#cache":{"contexts":[],"tags":[],"max-age":-1},"#weight":0},"field_factor_4_q_2_cbhls":{"#cache":{"contexts":[],"tags":[],"max-age":-1},"#weight":0},"field_factor_5_q_2_1_cbhls":{"#cache":{"contexts":[],"tags":[],"max-age":-1},"#weight":0},"field_factor_7_q_1_1_cbhls":{"#cache":{"contexts":[],"tags":[],"max-age":-1},"#weight":0},"field_factor_8_q_1_1_cbhls":{"#cache":{"contexts":[],"tags":[],"max-age":-1},"#weight":0},"field_family_obligations_attenda":{"#cache":{"contexts":[],"tags":[],"max-age":-1},"#weight":0},"field_family_obligations_enrollm":{"#cache":{"contexts":[],"tags":[],"max-age":-1},"#weight":0},"field_federal_":{"#cache":{"contexts":[],"tags":[],"max-age":-1},"#weight":0},"field_federal_funding_for_dlp_na":{"#cache":{"contexts":[],"tags":[],"max-age":-1},"#weight":0},"field_federal_sources_support_pk":{"#cache":{"contexts":[],"tags":[],"max-age":-1},"#weight":0},"field_first_language_speakers_in":{"#cache":{"contexts":[],"tags":[],"max-age":-1},"#weight":0},"field_free_and_reduced_lunch_nat":{"#cache":{"contexts":[],"tags":[],"max-age":-1},"#weight":0},"field_grades_taught_at_your_scho":{"#cache":{"contexts":[],"tags":[],"max-age":-1},"#weight":0},"field_groups_over_10p":{"#cache":{"contexts":[],"tags":[],"max-age":-1},"#weight":0},"field_groups_over_10p_native":{"#cache":{"contexts":[],"tags":[],"max-age":-1},"#weight":0},"field_has_enrollments_increased_":{"#cache":{"contexts":[],"tags":[],"max-age":-1},"#weight":0},"field_heritage_language_learners":{"#cache":{"contexts":[],"tags":[],"max-age":-1},"#weight":0},"field_high_school_students_cbhls":{"#cache":{"contexts":[],"tags":[],"max-age":-1},"#weight":0},"field_homework_and_other_attenda":{"#cache":{"contexts":[],"tags":[],"max-age":-1},"#weight":0},"field_homework_and_other_enroll":{"#cache":{"contexts":[],"tags":[],"max-age":-1},"#weight":0},"field_how_do_these_activities":{"#cache":{"contexts":[],"tags":[],"max-age":-1},"#weight":0},"field_how_important_is_the_impac":{"#cache":{"contexts":[],"tags":[],"max-age":-1},"#weight":0},"field_how_is_english_taught_nati":{"#cache":{"contexts":[],"tags":[],"max-age":-1},"#weight":0},"field_how_the_instructional_form":{"#cache":{"contexts":[],"tags":[],"max-age":-1},"#weight":0},"field_immersion_exp_huls_pk":{"#cache":{"contexts":[],"tags":[],"max-age":-1},"#weight":0},"field_immersion_experience_la_pk":{"#cache":{"contexts":[],"tags":[],"max-age":-1},"#weight":0},"field_immersion_experience_pk":{"#cache":{"contexts":[],"tags":[],"max-age":-1},"#weight":0},"field_incorporate_online_learnin":{"#theme":"field","#title":"incorporate online learning higher","#label_display":"above","#view_mode":"full","#language":"en","#field_name":"field_incorporate_online_learnin","#field_type":"list_string","#field_translatable":false,"#entity_type":"node","#bundle":"survey","#object":{"in_preview":null},"#items":{},"#formatter":"list_default","#is_multiple":false,"#third_party_settings":[],"0":{"#markup":"No","#allowed_tags":["a","b","big","code","del","em","i","ins","pre","q","small","span","strong","sub","sup","tt","ol","ul","li","p","br","img"]},"#cache":{"contexts":[],"tags":[],"max-age":-1},"#weight":0},"field_individual_lessons_or":{"#cache":{"contexts":[],"tags":[],"max-age":-1},"#weight":0},"field_individual_lessons_or_indi":{"#cache":{"contexts":[],"tags":[],"max-age":-1},"#weight":0},"field_instruction_methodologies_":{"#cache":{"contexts":[],"tags":[],"max-age":-1},"#weight":0},"field_kae_q16_1_native":{"#cache":{"contexts":[],"tags":[],"max-age":-1},"#weight":0},"field_kae_q3_explain_native":{"#cache":{"contexts":[],"tags":[],"max-age":-1},"#weight":0},"field_kae_q3_native":{"#cache":{"contexts":[],"tags":[],"max-age":-1},"#weight":0},"field_kindergarten_students_cbhl":{"#cache":{"contexts":[],"tags":[],"max-age":-1},"#weight":0},"field_language_immersion_opportu":{"#theme":"field","#title":"language immersion opportunities higher","#label_display":"above","#view_mode":"full","#language":"en","#field_name":"field_language_immersion_opportu","#field_type":"list_string","#field_translatable":false,"#entity_type":"node","#bundle":"survey","#object":{"in_preview":null},"#items":{},"#formatter":"list_default","#is_multiple":false,"#third_party_settings":[],"0":{"#markup":"Yes","#allowed_tags":["a","b","big","code","del","em","i","ins","pre","q","small","span","strong","sub","sup","tt","ol","ul","li","p","br","img"]},"#cache":{"contexts":[],"tags":[],"max-age":-1},"#weight":0},"field_language_medium_admin_nati":{"#cache":{"contexts":[],"tags":[],"max-age":-1},"#weight":0},"field_language_medium_assembly_n":{"#cache":{"contexts":[],"tags":[],"max-age":-1},"#weight":0},"field_language_medium_communicat":{"#cache":{"contexts":[],"tags":[],"max-age":-1},"#weight":0},"field_language_medium_operations":{"#cache":{"contexts":[],"tags":[],"max-age":-1},"#weight":0},"field_language_medium_parent_rea":{"#cache":{"contexts":[],"tags":[],"max-age":-1},"#weight":0},"field_language_of_general_academ":{"#cache":{"contexts":[],"tags":[],"max-age":-1},"#weight":0},"field_language_of_instruction_na":{"#cache":{"contexts":[],"tags":[],"max-age":-1},"#weight":0},"field_language_req_high_sub":{"#theme":"field","#title":"Language Requirement Higher Sub","#label_display":"above","#view_mode":"full","#language":"en","#field_name":"field_language_req_high_sub","#field_type":"list_string","#field_translatable":false,"#entity_type":"node","#bundle":"survey","#object":{"in_preview":null},"#items":{},"#formatter":"list_default","#is_multiple":false,"#third_party_settings":[],"0":{"#markup":"College or school requirement","#allowed_tags":["a","b","big","code","del","em","i","ins","pre","q","small","span","strong","sub","sup","tt","ol","ul","li","p","br","img"]},"#cache":{"contexts":[],"tags":[],"max-age":-1},"#weight":0},"field_language_requirement_higeh":{"#theme":"field","#title":"Language Requirement Higher","#label_display":"above","#view_mode":"full","#language":"en","#field_name":"field_language_requirement_higeh","#field_type":"list_string","#field_translatable":false,"#entity_type":"node","#bundle":"survey","#object":{"in_preview":null},"#items":{},"#formatter":"list_default","#is_multiple":false,"#third_party_settings":[],"0":{"#markup":"Yes","#allowed_tags":["a","b","big","code","del","em","i","ins","pre","q","small","span","strong","sub","sup","tt","ol","ul","li","p","br","img"]},"#cache":{"contexts":[],"tags":[],"max-age":-1},"#weight":0},"field_languages_added_in_past_5":{"#cache":{"contexts":[],"tags":[],"max-age":-1},"#weight":0},"field_languages_added_in_past_5y":{"#cache":{"contexts":[],"tags":[],"max-age":-1},"#weight":0},"field_languages_taught_at_your":{"#cache":{"contexts":[],"tags":[],"max-age":-1},"#weight":0},"field_latinx_headline":{"#cache":{"contexts":[],"tags":[],"max-age":-1},"#weight":0},"field_latinx_program_description":{"#cache":{"contexts":[],"tags":[],"max-age":-1},"#weight":0},"field_law_elder_to_be_teacher_na":{"#cache":{"contexts":[],"tags":[],"max-age":-1},"#weight":0},"field_lea_or_sea_offer":{"#cache":{"contexts":[],"tags":[],"max-age":-1},"#weight":0},"field_learners_who_speak_a_cbhls":{"#cache":{"contexts":[],"tags":[],"max-age":-1},"#weight":0},"field_learners_who_speak_c_cbhls":{"#cache":{"contexts":[],"tags":[],"max-age":-1},"#weight":0},"field_levels_of_language_higher":{"#cache":{"contexts":[],"tags":[],"max-age":-1},"#weight":0},"field_levels_of_language_prek":{"#cache":{"contexts":[],"tags":[],"max-age":-1},"#weight":0},"field_list_immersion_exp_huls_pk":{"#cache":{"contexts":[],"tags":[],"max-age":-1},"#weight":0},"field_list_immersion_exp_latin":{"#cache":{"contexts":[],"tags":[],"max-age":-1},"#weight":0},"field_list_immersion_exp_native":{"#cache":{"contexts":[],"tags":[],"max-age":-1},"#weight":0},"field_list_immersion_exp_prek":{"#cache":{"contexts":[],"tags":[],"max-age":-1},"#weight":0},"field_location_of_program_native":{"#cache":{"contexts":[],"tags":[],"max-age":-1},"#weight":0},"field_main_features_of_your_nati":{"#cache":{"contexts":[],"tags":[],"max-age":-1},"#weight":0},"field_main_features_of_your_stud":{"#cache":{"contexts":[],"tags":[],"max-age":-1},"#weight":0},"field_main_reasons_students_atte":{"#cache":{"contexts":[],"tags":[],"max-age":-1},"#weight":0},"field_main_sources_of_financial":{"#cache":{"contexts":[],"tags":[],"max-age":-1},"#weight":0},"field_methods_or_strategies_for_":{"#cache":{"contexts":[],"tags":[],"max-age":-1},"#weight":0},"field_middle_school_students_gra":{"#cache":{"contexts":[],"tags":[],"max-age":-1},"#weight":0},"field_minority_serve_inst_high_l":{"#cache":{"contexts":[],"tags":[],"max-age":-1},"#weight":0},"field_minority_serve_inst_higher":{"#theme":"field","#title":"Minority Serving Institution","#label_display":"above","#view_mode":"full","#language":"en","#field_name":"field_minority_serve_inst_higher","#field_type":"list_string","#field_translatable":false,"#entity_type":"node","#bundle":"survey","#object":{"in_preview":null},"#items":{},"#formatter":"list_default","#is_multiple":false,"#third_party_settings":[],"0":{"#markup":"No","#allowed_tags":["a","b","big","code","del","em","i","ins","pre","q","small","span","strong","sub","sup","tt","ol","ul","li","p","br","img"]},"#cache":{"contexts":[],"tags":[],"max-age":-1},"#weight":0},"field_mirror_population_staff_pk":{"#cache":{"contexts":[],"tags":[],"max-age":-1},"#weight":0},"field_most_effective_communicati":{"#cache":{"contexts":[],"tags":[],"max-age":-1},"#weight":0},"field_multilingual_learners_cbhl":{"#cache":{"contexts":[],"tags":[],"max-age":-1},"#weight":0},"field_obstacles_huls_face":{"#cache":{"contexts":[],"tags":[],"max-age":-1},"#weight":0},"field_obstacles_latinx_face":{"#cache":{"contexts":[],"tags":[],"max-age":-1},"#weight":0},"field_obstacles_latinx_face_nati":{"#cache":{"contexts":[],"tags":[],"max-age":-1},"#weight":0},"field_obstacles_that_huls_face_h":{"#theme":"field","#title":"Obstacles that HULs Face Higher","#label_display":"above","#view_mode":"full","#language":"en","#field_name":"field_obstacles_that_huls_face_h","#field_type":"list_string","#field_translatable":false,"#entity_type":"node","#bundle":"survey","#object":{"in_preview":null},"#items":{},"#formatter":"list_default","#is_multiple":true,"#third_party_settings":[],"0":{"#markup":"Schedule","#allowed_tags":["a","b","big","code","del","em","i","ins","pre","q","small","span","strong","sub","sup","tt","ol","ul","li","p","br","img"]},"1":{"#markup":"Program or institution requirements","#allowed_tags":["a","b","big","code","del","em","i","ins","pre","q","small","span","strong","sub","sup","tt","ol","ul","li","p","br","img"]},"#cache":{"contexts":[],"tags":[],"max-age":-1},"#weight":0},"field_offer_different_pathways":{"#cache":{"contexts":[],"tags":[],"max-age":-1},"#weight":0},"field_offer_in_service_professio":{"#theme":"field","#title":"offer in-service professional development higher","#label_display":"above","#view_mode":"full","#language":"en","#field_name":"field_offer_in_service_professio","#field_type":"list_string","#field_translatable":false,"#entity_type":"node","#bundle":"survey","#object":{"in_preview":null},"#items":{},"#formatter":"list_default","#is_multiple":false,"#third_party_settings":[],"0":{"#markup":"Yes","#allowed_tags":["a","b","big","code","del","em","i","ins","pre","q","small","span","strong","sub","sup","tt","ol","ul","li","p","br","img"]},"#cache":{"contexts":[],"tags":[],"max-age":-1},"#weight":0},"field_online_learning_acces_prek":{"#cache":{"contexts":[],"tags":[],"max-age":-1},"#weight":0},"field_online_learning_access_nat":{"#cache":{"contexts":[],"tags":[],"max-age":-1},"#weight":0},"field_optional_please_describe_o":{"#cache":{"contexts":[],"tags":[],"max-age":-1},"#weight":0},"field_other_attendance_cbhls":{"#cache":{"contexts":[],"tags":[],"max-age":-1},"#weight":0},"field_other_enrollment_":{"#cache":{"contexts":[],"tags":[],"max-age":-1},"#weight":0},"field_other_noh_cbhls":{"#cache":{"contexts":[],"tags":[],"max-age":-1},"#weight":0},"field_other_nowy_cbhls":{"#cache":{"contexts":[],"tags":[],"max-age":-1},"#weight":0},"field_outcomes_cbhls":{"#cache":{"contexts":[],"tags":[],"max-age":-1},"#weight":0},"field_outcomes_explanation_cbhls":{"#cache":{"contexts":[],"tags":[],"max-age":-1},"#weight":0},"field_partner_with_any_foreign":{"#theme":"field","#title":"partner with any foreign university where students will receive scholarship higher","#label_display":"above","#view_mode":"full","#language":"en","#field_name":"field_partner_with_any_foreign","#field_type":"list_string","#field_translatable":false,"#entity_type":"node","#bundle":"survey","#object":{"in_preview":null},"#items":{},"#formatter":"list_default","#is_multiple":false,"#third_party_settings":[],"0":{"#markup":"No","#allowed_tags":["a","b","big","code","del","em","i","ins","pre","q","small","span","strong","sub","sup","tt","ol","ul","li","p","br","img"]},"#cache":{"contexts":[],"tags":[],"max-age":-1},"#weight":0},"field_partnerships_help_prek":{"#cache":{"contexts":[],"tags":[],"max-age":-1},"#weight":0},"field_partnerships_with_philanth":{"#theme":"field","#title":"partnerships with philanthropic higher","#label_display":"above","#view_mode":"full","#language":"en","#field_name":"field_partnerships_with_philanth","#field_type":"list_string","#field_translatable":false,"#entity_type":"node","#bundle":"survey","#object":{"in_preview":null},"#items":{},"#formatter":"list_default","#is_multiple":false,"#third_party_settings":[],"0":{"#markup":"Yes","#allowed_tags":["a","b","big","code","del","em","i","ins","pre","q","small","span","strong","sub","sup","tt","ol","ul","li","p","br","img"]},"#cache":{"contexts":[],"tags":[],"max-age":-1},"#weight":0},"field_percent_of_already_speakin":{"#cache":{"contexts":[],"tags":[],"max-age":-1},"#weight":0},"field_please_provide_a_descripti":{"#cache":{"contexts":[],"tags":[],"max-age":-1},"#weight":0},"field_practice_1":{"#theme":"field","#title":"Practice 1","#label_display":"above","#view_mode":"full","#language":"en","#field_name":"field_practice_1","#field_type":"string_long","#field_translatable":false,"#entity_type":"node","#bundle":"survey","#object":{"in_preview":null},"#items":{},"#formatter":"basic_string","#is_multiple":false,"#third_party_settings":[],"0":{"#type":"inline_template","#template":"{{ value|nl2br }}","#context":{"value":"Intensive advising and support for individual students; small class-size and faculty that keeps close watch on student academic success and progress"}},"#cache":{"contexts":[],"tags":[],"max-age":-1},"#weight":0},"field_practice_1_cbhls":{"#theme":"field","#title":"Practice 1 cbhls","#label_display":"above","#view_mode":"full","#language":"en","#field_name":"field_practice_1_cbhls","#field_type":"string_long","#field_translatable":false,"#entity_type":"node","#bundle":"survey","#object":{"in_preview":null},"#items":{},"#formatter":"basic_string","#is_multiple":false,"#third_party_settings":[],"0":{"#type":"inline_template","#template":"{{ value|nl2br }}","#context":{"value":"Intensive advising and support for individual students; small class-size and faculty that keeps close watch on student academic success and progress"}},"#cache":{"contexts":[],"tags":[],"max-age":-1},"#weight":0},"field_practice_1_higher":{"#cache":{"contexts":[],"tags":[],"max-age":-1},"#weight":0},"field_practice_1_native":{"#theme":"field","#title":"Practice 1 native","#label_display":"above","#view_mode":"full","#language":"en","#field_name":"field_practice_1_native","#field_type":"string_long","#field_translatable":false,"#entity_type":"node","#bundle":"survey","#object":{"in_preview":null},"#items":{},"#formatter":"basic_string","#is_multiple":false,"#third_party_settings":[],"0":{"#type":"inline_template","#template":"{{ value|nl2br }}","#context":{"value":"Intensive advising and support for individual students; small class-size and faculty that keeps close watch on student academic success and progress"}},"#cache":{"contexts":[],"tags":[],"max-age":-1},"#weight":0},"field_practice_2":{"#theme":"field","#title":"Practice 2","#label_display":"above","#view_mode":"full","#language":"en","#field_name":"field_practice_2","#field_type":"string_long","#field_translatable":false,"#entity_type":"node","#bundle":"survey","#object":{"in_preview":null},"#items":{},"#formatter":"basic_string","#is_multiple":false,"#third_party_settings":[],"0":{"#type":"inline_template","#template":"{{ value|nl2br }}","#context":{"value":"Ability to offer one-on-one conversation practice for students in the Flagship Program"}},"#cache":{"contexts":[],"tags":[],"max-age":-1},"#weight":0},"field_practice_2_cbhls":{"#theme":"field","#title":"Practice 2 cbhls","#label_display":"above","#view_mode":"full","#language":"en","#field_name":"field_practice_2_cbhls","#field_type":"string_long","#field_translatable":false,"#entity_type":"node","#bundle":"survey","#object":{"in_preview":null},"#items":{},"#formatter":"basic_string","#is_multiple":false,"#third_party_settings":[],"0":{"#type":"inline_template","#template":"{{ value|nl2br }}","#context":{"value":"Ability to offer one-on-one conversation practice for students in the Flagship Program"}},"#cache":{"contexts":[],"tags":[],"max-age":-1},"#weight":0},"field_practice_2_higher":{"#cache":{"contexts":[],"tags":[],"max-age":-1},"#weight":0},"field_practice_2_native":{"#theme":"field","#title":"Practice 2 native","#label_display":"above","#view_mode":"full","#language":"en","#field_name":"field_practice_2_native","#field_type":"string_long","#field_translatable":false,"#entity_type":"node","#bundle":"survey","#object":{"in_preview":null},"#items":{},"#formatter":"basic_string","#is_multiple":false,"#third_party_settings":[],"0":{"#type":"inline_template","#template":"{{ value|nl2br }}","#context":{"value":"Ability to offer one-on-one conversation practice for students in the Flagship Program"}},"#cache":{"contexts":[],"tags":[],"max-age":-1},"#weight":0},"field_practice_3":{"#cache":{"contexts":[],"tags":[],"max-age":-1},"#weight":0},"field_practice_3_cbhls":{"#cache":{"contexts":[],"tags":[],"max-age":-1},"#weight":0},"field_practice_3_hi":{"#cache":{"contexts":[],"tags":[],"max-age":-1},"#weight":0},"field_practice_3_native":{"#cache":{"contexts":[],"tags":[],"max-age":-1},"#weight":0},"field_pre_and_post_program_asses":{"#theme":"field","#title":"Pre- and post-program assessments for students higher","#label_display":"above","#view_mode":"full","#language":"en","#field_name":"field_pre_and_post_program_asses","#field_type":"list_string","#field_translatable":false,"#entity_type":"node","#bundle":"survey","#object":{"in_preview":null},"#items":{},"#formatter":"list_default","#is_multiple":true,"#third_party_settings":[],"0":{"#markup":"Language proficiency","#allowed_tags":["a","b","big","code","del","em","i","ins","pre","q","small","span","strong","sub","sup","tt","ol","ul","li","p","br","img"]},"1":{"#markup":"Intercultural development","#allowed_tags":["a","b","big","code","del","em","i","ins","pre","q","small","span","strong","sub","sup","tt","ol","ul","li","p","br","img"]},"#cache":{"contexts":[],"tags":[],"max-age":-1},"#weight":0},"field_pre_k_students_cbhls":{"#cache":{"contexts":[],"tags":[],"max-age":-1},"#weight":0},"field_private_business_ent_high":{"#cache":{"contexts":[],"tags":[],"max-age":-1},"#weight":0},"field_private_business_enterpris":{"#theme":"field","#title":"private business enterprises that benefit HULs higher","#label_display":"above","#view_mode":"full","#language":"en","#field_name":"field_private_business_enterpris","#field_type":"list_string","#field_translatable":false,"#entity_type":"node","#bundle":"survey","#object":{"in_preview":null},"#items":{},"#formatter":"list_default","#is_multiple":false,"#third_party_settings":[],"0":{"#markup":"No","#allowed_tags":["a","b","big","code","del","em","i","ins","pre","q","small","span","strong","sub","sup","tt","ol","ul","li","p","br","img"]},"#cache":{"contexts":[],"tags":[],"max-age":-1},"#weight":0},"field_process_to_grant_certifica":{"#cache":{"contexts":[],"tags":[],"max-age":-1},"#weight":0},"field_professional_development_c":{"#cache":{"contexts":[],"tags":[],"max-age":-1},"#weight":0},"field_professional_development_e":{"#cache":{"contexts":[],"tags":[],"max-age":-1},"#weight":0},"field_program_conduct_higher":{"#theme":"field","#title":"program conduct any of the following as part of their in-country language immersion programs higher","#label_display":"above","#view_mode":"full","#language":"en","#field_name":"field_program_conduct_higher","#field_type":"list_string","#field_translatable":false,"#entity_type":"node","#bundle":"survey","#object":{"in_preview":null},"#items":{},"#formatter":"list_default","#is_multiple":true,"#third_party_settings":[],"0":{"#markup":"Pre- and post-program assessments for students","#allowed_tags":["a","b","big","code","del","em","i","ins","pre","q","small","span","strong","sub","sup","tt","ol","ul","li","p","br","img"]},"#cache":{"contexts":[],"tags":[],"max-age":-1},"#weight":0},"field_program_description":{"#theme":"field","#title":"Description","#label_display":"above","#view_mode":"full","#language":"en","#field_name":"field_program_description","#field_type":"string_long","#field_translatable":false,"#entity_type":"node","#bundle":"survey","#object":{"in_preview":null},"#items":{},"#formatter":"basic_string","#is_multiple":false,"#third_party_settings":[],"0":{"#type":"inline_template","#template":"{{ value|nl2br }}","#context":{"value":"We adjust course offerings so that students can gain proficiency as rapidly as possible. For example, we offer both regular-paced and intensive first-year Russian during the academic year, and we offer third-year Russian both during the summer and during the academic year.\r\nWe work closely with Russian language programs in the local community colleges and the local public school district so that there is a smooth transition from those programs to our Russian minor, major, and\/or Flagship program. We can successfully place students and heritage speakers in our program based on their proficiency levels since our courses are designed to meet specific proficiency outcomes.\r\nWe offer intensive advising to students about language learning strategies, study strategies, testing performance strategies, guidance in applying for scholarships (Boren, CLS, Gilman), and career exploration. These topics are covered in a one-credit Flagship Studies class that students take each term of their first year in the program. We also offer academic advising about course selection to students so that they can complete any major at the university and the Russian Flagship Program. "}},"#cache":{"contexts":[],"tags":[],"max-age":-1},"#weight":0},"field_program_headline":{"#theme":"field","#title":"Program Headline","#label_display":"above","#view_mode":"full","#language":"en","#field_name":"field_program_headline","#field_type":"list_string","#field_translatable":false,"#entity_type":"node","#bundle":"survey","#object":{"in_preview":null},"#items":{},"#formatter":"list_default","#is_multiple":false,"#third_party_settings":[],"0":{"#markup":"Russian Language and Cultural Skills for Any Major","#allowed_tags":["a","b","big","code","del","em","i","ins","pre","q","small","span","strong","sub","sup","tt","ol","ul","li","p","br","img"]},"#cache":{"contexts":[],"tags":[],"max-age":-1},"#weight":0},"field_program_partner_with_highr":{"#theme":"field","#title":"program partner with any of the following higher","#label_display":"above","#view_mode":"full","#language":"en","#field_name":"field_program_partner_with_highr","#field_type":"list_string","#field_translatable":false,"#entity_type":"node","#bundle":"survey","#object":{"in_preview":null},"#items":{},"#formatter":"list_default","#is_multiple":false,"#third_party_settings":[],"0":{"#markup":"Heritage communities","#allowed_tags":["a","b","big","code","del","em","i","ins","pre","q","small","span","strong","sub","sup","tt","ol","ul","li","p","br","img"]},"#cache":{"contexts":[],"tags":[],"max-age":-1},"#weight":0},"field_program_partner_with_prek":{"#cache":{"contexts":[],"tags":[],"max-age":-1},"#weight":0},"field_program_partnerships_prek":{"#cache":{"contexts":[],"tags":[],"max-age":-1},"#weight":0},"field_program_require_specific_r":{"#cache":{"contexts":[],"tags":[],"max-age":-1},"#weight":0},"field_programs_are_available_in_":{"#cache":{"contexts":[],"tags":[],"max-age":-1},"#weight":0},"field_programs_identified_above_":{"#cache":{"contexts":[],"tags":[],"max-age":-1},"#weight":0},"field_provide_description_of_sch":{"#cache":{"contexts":[],"tags":[],"max-age":-1},"#weight":0},"field_public_definition_higher":{"#theme":"field","#title":"public definition of  student success Higher","#label_display":"above","#view_mode":"full","#language":"en","#field_name":"field_public_definition_higher","#field_type":"list_string","#field_translatable":false,"#entity_type":"node","#bundle":"survey","#object":{"in_preview":null},"#items":{},"#formatter":"list_default","#is_multiple":false,"#third_party_settings":[],"0":{"#markup":"Yes","#allowed_tags":["a","b","big","code","del","em","i","ins","pre","q","small","span","strong","sub","sup","tt","ol","ul","li","p","br","img"]},"#cache":{"contexts":[],"tags":[],"max-age":-1},"#weight":0},"field_public_definition_of_std_n":{"#cache":{"contexts":[],"tags":[],"max-age":-1},"#weight":0},"field_public_definition_std_scss":{"#cache":{"contexts":[],"tags":[],"max-age":-1},"#weight":0},"field_public_efforts_inc_en_prek":{"#cache":{"contexts":[],"tags":[],"max-age":-1},"#weight":0},"field_public_efforts_to_increase":{"#theme":"field","#title":"public efforts to increase enrollments Higher","#label_display":"above","#view_mode":"full","#language":"en","#field_name":"field_public_efforts_to_increase","#field_type":"list_string","#field_translatable":false,"#entity_type":"node","#bundle":"survey","#object":{"in_preview":null},"#items":{},"#formatter":"list_default","#is_multiple":false,"#third_party_settings":[],"0":{"#markup":"Yes","#allowed_tags":["a","b","big","code","del","em","i","ins","pre","q","small","span","strong","sub","sup","tt","ol","ul","li","p","br","img"]},"#cache":{"contexts":[],"tags":[],"max-age":-1},"#weight":0},"field_public_efforts_to_native":{"#cache":{"contexts":[],"tags":[],"max-age":-1},"#weight":0},"field_public_private_higher":{"#theme":"field","#title":"Public Private Higher","#label_display":"above","#view_mode":"full","#language":"en","#field_name":"field_public_private_higher","#field_type":"list_string","#field_translatable":false,"#entity_type":"node","#bundle":"survey","#object":{"in_preview":null},"#items":{},"#formatter":"list_default","#is_multiple":false,"#third_party_settings":[],"0":{"#markup":"Public","#allowed_tags":["a","b","big","code","del","em","i","ins","pre","q","small","span","strong","sub","sup","tt","ol","ul","li","p","br","img"]},"#cache":{"contexts":[],"tags":[],"max-age":-1},"#weight":0},"field_publish_clear_description":{"#theme":"field","#title":"publish clear description higher","#label_display":"above","#view_mode":"full","#language":"en","#field_name":"field_publish_clear_description","#field_type":"list_string","#field_translatable":false,"#entity_type":"node","#bundle":"survey","#object":{"in_preview":null},"#items":{},"#formatter":"list_default","#is_multiple":false,"#third_party_settings":[],"0":{"#markup":"Yes","#allowed_tags":["a","b","big","code","del","em","i","ins","pre","q","small","span","strong","sub","sup","tt","ol","ul","li","p","br","img"]},"#cache":{"contexts":[],"tags":[],"max-age":-1},"#weight":0},"field_publish_clear_description_":{"#cache":{"contexts":[],"tags":[],"max-age":-1},"#weight":0},"field_publish_description_prek":{"#cache":{"contexts":[],"tags":[],"max-age":-1},"#weight":0},"field_reach_recruit_teachers_lat":{"#cache":{"contexts":[],"tags":[],"max-age":-1},"#weight":0},"field_reaching_to_recruit_teachr":{"#cache":{"contexts":[],"tags":[],"max-age":-1},"#weight":0},"field_receive_federal_fund_dlp":{"#cache":{"contexts":[],"tags":[],"max-age":-1},"#weight":0},"field_receive_funding_for_dlp_pk":{"#cache":{"contexts":[],"tags":[],"max-age":-1},"#weight":0},"field_receive_funding_for_lp_nat":{"#cache":{"contexts":[],"tags":[],"max-age":-1},"#weight":0},"field_receive_funding_for_lp_pk":{"#cache":{"contexts":[],"tags":[],"max-age":-1},"#weight":0},"field_receive_state_funding_for_":{"#cache":{"contexts":[],"tags":[],"max-age":-1},"#weight":0},"field_recruit_from_used_category":{"#cache":{"contexts":[],"tags":[],"max-age":-1},"#weight":0},"field_recruit_students_from_cate":{"#cache":{"contexts":[],"tags":[],"max-age":-1},"#weight":0},"field_recruit_teachers_huls_comm":{"#theme":"field","#title":"recruit teachers HULs Community higher","#label_display":"above","#view_mode":"full","#language":"en","#field_name":"field_recruit_teachers_huls_comm","#field_type":"list_string","#field_translatable":false,"#entity_type":"node","#bundle":"survey","#object":{"in_preview":null},"#items":{},"#formatter":"list_default","#is_multiple":false,"#third_party_settings":[],"0":{"#markup":"Yes","#allowed_tags":["a","b","big","code","del","em","i","ins","pre","q","small","span","strong","sub","sup","tt","ol","ul","li","p","br","img"]},"#cache":{"contexts":[],"tags":[],"max-age":-1},"#weight":0},"field_religious_obligations_atte":{"#cache":{"contexts":[],"tags":[],"max-age":-1},"#weight":0},"field_religious_obligations_enro":{"#cache":{"contexts":[],"tags":[],"max-age":-1},"#weight":0},"field_require_families_to_partic":{"#cache":{"contexts":[],"tags":[],"max-age":-1},"#weight":0},"field_require_to_have_certificat":{"#cache":{"contexts":[],"tags":[],"max-age":-1},"#weight":0},"field_requirement_list_families_":{"#cache":{"contexts":[],"tags":[],"max-age":-1},"#weight":0},"field_retain_huls_higher":{"#theme":"field","#title":"Retain HULs Higher","#label_display":"above","#view_mode":"full","#language":"en","#field_name":"field_retain_huls_higher","#field_type":"list_string","#field_translatable":false,"#entity_type":"node","#bundle":"survey","#object":{"in_preview":null},"#items":{},"#formatter":"list_default","#is_multiple":false,"#third_party_settings":[],"0":{"#markup":"Faculty\/administrative awareness training","#allowed_tags":["a","b","big","code","del","em","i","ins","pre","q","small","span","strong","sub","sup","tt","ol","ul","li","p","br","img"]},"#cache":{"contexts":[],"tags":[],"max-age":-1},"#weight":0},"field_role_of_elders_and_integra":{"#cache":{"contexts":[],"tags":[],"max-age":-1},"#weight":0},"field_role_of_families_in_teachi":{"#cache":{"contexts":[],"tags":[],"max-age":-1},"#weight":0},"field_role_of_first_language_spe":{"#cache":{"contexts":[],"tags":[],"max-age":-1},"#weight":0},"field_role_of_first_language_wri":{"#cache":{"contexts":[],"tags":[],"max-age":-1},"#weight":0},"field_role_of_highly_professiona":{"#cache":{"contexts":[],"tags":[],"max-age":-1},"#weight":0},"field_role_of_limited_profession":{"#cache":{"contexts":[],"tags":[],"max-age":-1},"#weight":0},"field_saturday_or_sunday_class_":{"#cache":{"contexts":[],"tags":[],"max-age":-1},"#weight":0},"field_saturday_or_sunday_classes":{"#cache":{"contexts":[],"tags":[],"max-age":-1},"#weight":0},"field_school_accredited_native":{"#cache":{"contexts":[],"tags":[],"max-age":-1},"#weight":0},"field_school_meet_the_needs_of_l":{"#cache":{"contexts":[],"tags":[],"max-age":-1},"#weight":0},"field_school_name_native":{"#cache":{"contexts":[],"tags":[],"max-age":-1},"#weight":0},"field_school_provide_information":{"#cache":{"contexts":[],"tags":[],"max-age":-1},"#weight":0},"field_school_strive_to_provide_i":{"#cache":{"contexts":[],"tags":[],"max-age":-1},"#weight":0},"field_school_teach_any_other_lan":{"#cache":{"contexts":[],"tags":[],"max-age":-1},"#weight":0},"field_school_type":{"#cache":{"contexts":[],"tags":[],"max-age":-1},"#weight":0},"field_second_language_speakers_c":{"#cache":{"contexts":[],"tags":[],"max-age":-1},"#weight":0},"field_second_language_speakers_h":{"#cache":{"contexts":[],"tags":[],"max-age":-1},"#weight":0},"field_second_language_speakers_i":{"#cache":{"contexts":[],"tags":[],"max-age":-1},"#weight":0},"field_specific_requirements_for_":{"#cache":{"contexts":[],"tags":[],"max-age":-1},"#weight":0},"field_specific_requirements_list":{"#cache":{"contexts":[],"tags":[],"max-age":-1},"#weight":0},"field_state_program_fund_dlp_pk":{"#cache":{"contexts":[],"tags":[],"max-age":-1},"#weight":0},"field_state_program_fund_name_pk":{"#cache":{"contexts":[],"tags":[],"max-age":-1},"#weight":0},"field_sthnic_racial_profile":{"#cache":{"contexts":[],"tags":[],"max-age":-1},"#weight":0},"field_strategies_to_recruit_huls":{"#cache":{"contexts":[],"tags":[],"max-age":-1},"#weight":0},"field_strategies_to_recruit_stud":{"#cache":{"contexts":[],"tags":[],"max-age":-1},"#weight":0},"field_strategies_to_retain_and_s":{"#cache":{"contexts":[],"tags":[],"max-age":-1},"#weight":0},"field_strategies_to_retain_huls":{"#cache":{"contexts":[],"tags":[],"max-age":-1},"#weight":0},"field_strategies_to_retain_latin":{"#cache":{"contexts":[],"tags":[],"max-age":-1},"#weight":0},"field_strategies_you_use_to_recr":{"#cache":{"contexts":[],"tags":[],"max-age":-1},"#weight":0},"field_students_who_live_in_a_dif":{"#cache":{"contexts":[],"tags":[],"max-age":-1},"#weight":0},"field_students_who_live_in_the":{"#cache":{"contexts":[],"tags":[],"max-age":-1},"#weight":0},"field_study_of_second_lang_req":{"#cache":{"contexts":[],"tags":[],"max-age":-1},"#weight":0},"field_study_of_second_language":{"#cache":{"contexts":[],"tags":[],"max-age":-1},"#weight":0},"field_summer_camps_noh_cbhls":{"#cache":{"contexts":[],"tags":[],"max-age":-1},"#weight":0},"field_summer_camps_nowy_cbhls":{"#cache":{"contexts":[],"tags":[],"max-age":-1},"#weight":0},"field_summer_classes_noh_cbhls":{"#cache":{"contexts":[],"tags":[],"max-age":-1},"#weight":0},"field_summer_classes_nowy_cbhls":{"#cache":{"contexts":[],"tags":[],"max-age":-1},"#weight":0},"field_support_professional_devel":{"#theme":"field","#title":"support professional development focused higher","#label_display":"above","#view_mode":"full","#language":"en","#field_name":"field_support_professional_devel","#field_type":"list_string","#field_translatable":false,"#entity_type":"node","#bundle":"survey","#object":{"in_preview":null},"#items":{},"#formatter":"list_default","#is_multiple":true,"#third_party_settings":[],"0":{"#markup":"More focus on teaching language for proficiency; incorporating technology into language teaching and learning; measurement of student outcomes; organizing curriculum for advanced language learning","#allowed_tags":["a","b","big","code","del","em","i","ins","pre","q","small","span","strong","sub","sup","tt","ol","ul","li","p","br","img"]},"#cache":{"contexts":[],"tags":[],"max-age":-1},"#weight":0},"field_support_students_part_govp":{"#cache":{"contexts":[],"tags":[],"max-age":-1},"#weight":0},"field_support_students_part_prek":{"#cache":{"contexts":[],"tags":[],"max-age":-1},"#weight":0},"field_teacher_profile_reflect_hi":{"#theme":"field","#title":"teacher profile reflect higher","#label_display":"above","#view_mode":"full","#language":"en","#field_name":"field_teacher_profile_reflect_hi","#field_type":"list_string","#field_translatable":false,"#entity_type":"node","#bundle":"survey","#object":{"in_preview":null},"#items":{},"#formatter":"list_default","#is_multiple":false,"#third_party_settings":[],"0":{"#markup":"Yes","#allowed_tags":["a","b","big","code","del","em","i","ins","pre","q","small","span","strong","sub","sup","tt","ol","ul","li","p","br","img"]},"#cache":{"contexts":[],"tags":[],"max-age":-1},"#weight":0},"field_teachers_native_speaker_pk":{"#cache":{"contexts":[],"tags":[],"max-age":-1},"#weight":0},"field_title_1_school_native":{"#cache":{"contexts":[],"tags":[],"max-age":-1},"#weight":0},"field_title_one_school":{"#cache":{"contexts":[],"tags":[],"max-age":-1},"#weight":0},"field_transparency_accountabilit":{"#cache":{"contexts":[],"tags":[],"max-age":-1},"#weight":0},"field_type_of_financial_aid_do":{"#theme":"field","#title":"type of financial aid do you provide to HULs to participate in study abroad programs higher","#label_display":"above","#view_mode":"full","#language":"en","#field_name":"field_type_of_financial_aid_do","#field_type":"list_string","#field_translatable":false,"#entity_type":"node","#bundle":"survey","#object":{"in_preview":null},"#items":{},"#formatter":"list_default","#is_multiple":true,"#third_party_settings":[],"0":{"#markup":"Partial scholarships","#allowed_tags":["a","b","big","code","del","em","i","ins","pre","q","small","span","strong","sub","sup","tt","ol","ul","li","p","br","img"]},"#cache":{"contexts":[],"tags":[],"max-age":-1},"#weight":0},"field_type_of_program_native":{"#cache":{"contexts":[],"tags":[],"max-age":-1},"#weight":0},"field_types_of_instructional_for":{"#cache":{"contexts":[],"tags":[],"max-age":-1},"#weight":0},"field_types_of_language_learners":{"#cache":{"contexts":[],"tags":[],"max-age":-1},"#weight":0},"field_us_federal_government_prog":{"#theme":"field","#title":"US federal government programs do you encourage higher","#label_display":"above","#view_mode":"full","#language":"en","#field_name":"field_us_federal_government_prog","#field_type":"list_string","#field_translatable":false,"#entity_type":"node","#bundle":"survey","#object":{"in_preview":null},"#items":{},"#formatter":"list_default","#is_multiple":true,"#third_party_settings":[],"0":{"#markup":"Critical Language Scholarship (CLS)","#allowed_tags":["a","b","big","code","del","em","i","ins","pre","q","small","span","strong","sub","sup","tt","ol","ul","li","p","br","img"]},"1":{"#markup":"The Language Flagship","#allowed_tags":["a","b","big","code","del","em","i","ins","pre","q","small","span","strong","sub","sup","tt","ol","ul","li","p","br","img"]},"2":{"#markup":"David L. Boren Scholarship or Fellowship","#allowed_tags":["a","b","big","code","del","em","i","ins","pre","q","small","span","strong","sub","sup","tt","ol","ul","li","p","br","img"]},"3":{"#markup":"Benjamin A. Gilman International Scholarship","#allowed_tags":["a","b","big","code","del","em","i","ins","pre","q","small","span","strong","sub","sup","tt","ol","ul","li","p","br","img"]},"4":{"#markup":"Fulbright Scholarship","#allowed_tags":["a","b","big","code","del","em","i","ins","pre","q","small","span","strong","sub","sup","tt","ol","ul","li","p","br","img"]},"#cache":{"contexts":[],"tags":[],"max-age":-1},"#weight":0},"field_vision_strategic_planning_":{"#cache":{"contexts":[],"tags":[],"max-age":-1},"#weight":0},"field_weekday_evening_classes":{"#cache":{"contexts":[],"tags":[],"max-age":-1},"#weight":0},"field_weekday_evening_classes_no":{"#cache":{"contexts":[],"tags":[],"max-age":-1},"#weight":0},"field_were_these_added_native":{"#cache":{"contexts":[],"tags":[],"max-age":-1},"#weight":0},"field_were_these_added_result_p5":{"#cache":{"contexts":[],"tags":[],"max-age":-1},"#weight":0},"field_what_are_the_language_fact":{"#cache":{"contexts":[],"tags":[],"max-age":-1},"#weight":0},"field_what_percent_of_your_langu":{"#cache":{"contexts":[],"tags":[],"max-age":-1},"#weight":0},"field_which_group_of_learners_do":{"#cache":{"contexts":[],"tags":[],"max-age":-1},"#weight":0},"field_which_state_funds_for_dlp":{"#cache":{"contexts":[],"tags":[],"max-age":-1},"#weight":0},"field_which_state_funds_for_lp_n":{"#cache":{"contexts":[],"tags":[],"max-age":-1},"#weight":0},"field_work_attendance_cbhls":{"#cache":{"contexts":[],"tags":[],"max-age":-1},"#weight":0},"field_work_enrollment_cbhls":{"#cache":{"contexts":[],"tags":[],"max-age":-1},"#weight":0},"field_workforce_preparation_acti":{"#theme":"field","#title":"workforce preparation activities higher","#label_display":"above","#view_mode":"full","#language":"en","#field_name":"field_workforce_preparation_acti","#field_type":"list_string","#field_translatable":false,"#entity_type":"node","#bundle":"survey","#object":{"in_preview":null},"#items":{},"#formatter":"list_default","#is_multiple":true,"#third_party_settings":[],"0":{"#markup":"Yes","#allowed_tags":["a","b","big","code","del","em","i","ins","pre","q","small","span","strong","sub","sup","tt","ol","ul","li","p","br","img"]},"#cache":{"contexts":[],"tags":[],"max-age":-1},"#weight":0},"field_workforce_preparation_lisn":{"#theme":"field","#title":"Workforce Preparation Activity List native","#label_display":"above","#view_mode":"full","#language":"en","#field_name":"field_workforce_preparation_lisn","#field_type":"list_string","#field_translatable":false,"#entity_type":"node","#bundle":"survey","#object":{"in_preview":null},"#items":{},"#formatter":"list_default","#is_multiple":true,"#third_party_settings":[],"0":{"#markup":"Internships in an employment setting","#allowed_tags":["a","b","big","code","del","em","i","ins","pre","q","small","span","strong","sub","sup","tt","ol","ul","li","p","br","img"]},"1":{"#markup":"Occupationally-oriented presentations by employers, employees, or alums","#allowed_tags":["a","b","big","code","del","em","i","ins","pre","q","small","span","strong","sub","sup","tt","ol","ul","li","p","br","img"]},"2":{"#markup":"Occupationally oriented workshops (credit or non-credit)","#allowed_tags":["a","b","big","code","del","em","i","ins","pre","q","small","span","strong","sub","sup","tt","ol","ul","li","p","br","img"]},"#cache":{"contexts":[],"tags":[],"max-age":-1},"#weight":0},"field_workforce_preparation_list":{"#cache":{"contexts":[],"tags":[],"max-age":-1},"#weight":0},"field_workforce_preparation_nati":{"#cache":{"contexts":[],"tags":[],"max-age":-1},"#weight":0},"field_workforce_preparation_prek":{"#cache":{"contexts":[],"tags":[],"max-age":-1},"#weight":0},"field_year_the_school_was_establ":{"#cache":{"contexts":[],"tags":[],"max-age":-1},"#weight":0},"field_years_language_program_ofr":{"#cache":{"contexts":[],"tags":[],"max-age":-1},"#weight":0},"field_yes_which_other_language_t":{"#cache":{"contexts":[],"tags":[],"max-age":-1},"#weight":0},"field_your_program_include_any_o":{"#cache":{"contexts":[],"tags":[],"max-age":-1},"#weight":0},"field_your_school_been_able_to_a":{"#cache":{"contexts":[],"tags":[],"max-age":-1},"#weight":0},"field_your_school_communicate_wi":{"#cache":{"contexts":[],"tags":[],"max-age":-1},"#weight":0},"links":{"#lazy_builder":["Drupal\\node\\NodeViewBuilder::renderLinks",["1687","full","en",false,null]],"#weight":0},"body":{"#cache":{"contexts":[],"tags":[],"max-age":-1},"#weight":1},"field_survey_type":{"#theme":"field","#title":"Application Type","#label_display":"above","#view_mode":"full","#language":"en","#field_name":"field_survey_type","#field_type":"list_string","#field_translatable":false,"#entity_type":"node","#bundle":"survey","#object":{"in_preview":null},"#items":{},"#formatter":"list_default","#is_multiple":false,"#third_party_settings":[],"0":{"#markup":"Higher Education Institution","#allowed_tags":["a","b","big","code","del","em","i","ins","pre","q","small","span","strong","sub","sup","tt","ol","ul","li","p","br","img"]},"#cache":{"contexts":[],"tags":[],"max-age":-1},"#weight":2},"field_urbanicity":{"#cache":{"contexts":[],"tags":[],"max-age":-1},"#weight":4},"field_personal_first_name":{"#theme":"field","#title":"Personal First Name","#label_display":"above","#view_mode":"full","#language":"en","#field_name":"field_personal_first_name","#field_type":"list_string","#field_translatable":false,"#entity_type":"node","#bundle":"survey","#object":{"in_preview":null},"#items":{},"#formatter":"list_default","#is_multiple":false,"#third_party_settings":[],"0":{"#markup":"William","#allowed_tags":["a","b","big","code","del","em","i","ins","pre","q","small","span","strong","sub","sup","tt","ol","ul","li","p","br","img"]},"#cache":{"contexts":[],"tags":[],"max-age":-1},"#weight":6},"field_school_name":{"#cache":{"contexts":[],"tags":[],"max-age":-1},"#weight":7},"field_school_district_field":{"#cache":{"contexts":[],"tags":[],"max-age":-1},"#weight":8},"field_program_website":{"#cache":{"contexts":[],"tags":[],"max-age":-1},"#weight":9},"field_program_name":{"#cache":{"contexts":[],"tags":[],"max-age":-1},"#weight":10},"field_personal_last_name":{"#theme":"field","#title":"Personal Last Name","#label_display":"above","#view_mode":"full","#language":"en","#field_name":"field_personal_last_name","#field_type":"list_string","#field_translatable":false,"#entity_type":"node","#bundle":"survey","#object":{"in_preview":null},"#items":{},"#formatter":"list_default","#is_multiple":false,"#third_party_settings":[],"0":{"#markup":"Comer","#allowed_tags":["a","b","big","code","del","em","i","ins","pre","q","small","span","strong","sub","sup","tt","ol","ul","li","p","br","img"]},"#cache":{"contexts":[],"tags":[],"max-age":-1},"#weight":11},"field_personal_email_address":{"#theme":"field","#title":"Personal Email Address","#label_display":"above","#view_mode":"full","#language":"en","#field_name":"field_personal_email_address","#field_type":"list_string","#field_translatable":false,"#entity_type":"node","#bundle":"survey","#object":{"in_preview":null},"#items":{},"#formatter":"list_default","#is_multiple":false,"#third_party_settings":[],"0":{"#markup":"wcomer@pdx.edu","#allowed_tags":["a","b","big","code","del","em","i","ins","pre","q","small","span","strong","sub","sup","tt","ol","ul","li","p","br","img"]},"#cache":{"contexts":[],"tags":[],"max-age":-1},"#weight":12},"field_community_name":{"#cache":{"contexts":[],"tags":[],"max-age":-1},"#weight":13},"field_location_zip":{"#theme":"field","#title":"Location Zip","#label_display":"above","#view_mode":"full","#language":"en","#field_name":"field_location_zip","#field_type":"list_string","#field_translatable":false,"#entity_type":"node","#bundle":"survey","#object":{"in_preview":null},"#items":{},"#formatter":"list_default","#is_multiple":false,"#third_party_settings":[],"0":{"#markup":"97207","#allowed_tags":["a","b","big","code","del","em","i","ins","pre","q","small","span","strong","sub","sup","tt","ol","ul","li","p","br","img"]},"#cache":{"contexts":[],"tags":[],"max-age":-1},"#weight":14},"field_location_state":{"#theme":"field","#title":"Location State","#label_display":"above","#view_mode":"full","#language":"en","#field_name":"field_location_state","#field_type":"list_string","#field_translatable":false,"#entity_type":"node","#bundle":"survey","#object":{"in_preview":null},"#items":{},"#formatter":"list_default","#is_multiple":false,"#third_party_settings":[],"0":{"#markup":"Oregon","#allowed_tags":["a","b","big","code","del","em","i","ins","pre","q","small","span","strong","sub","sup","tt","ol","ul","li","p","br","img"]},"#cache":{"contexts":[],"tags":[],"max-age":-1},"#weight":15},"field_location_city":{"#theme":"field","#title":"Location City","#label_display":"above","#view_mode":"full","#language":"en","#field_name":"field_location_city","#field_type":"list_string","#field_translatable":false,"#entity_type":"node","#bundle":"survey","#object":{"in_preview":null},"#items":{},"#formatter":"list_default","#is_multiple":false,"#third_party_settings":[],"0":{"#markup":"Portland","#allowed_tags":["a","b","big","code","del","em","i","ins","pre","q","small","span","strong","sub","sup","tt","ol","ul","li","p","br","img"]},"#cache":{"contexts":[],"tags":[],"max-age":-1},"#weight":16},"field_levels":{"#cache":{"contexts":[],"tags":[],"max-age":-1},"#weight":17},"field_institution_name":{"#theme":"field","#title":"Institution Name","#label_display":"above","#view_mode":"full","#language":"en","#field_name":"field_institution_name","#field_type":"list_string","#field_translatable":false,"#entity_type":"node","#bundle":"survey","#object":{"in_preview":null},"#items":{},"#formatter":"list_default","#is_multiple":false,"#third_party_settings":[],"0":{"#markup":"Portland State University","#allowed_tags":["a","b","big","code","del","em","i","ins","pre","q","small","span","strong","sub","sup","tt","ol","ul","li","p","br","img"]},"#cache":{"contexts":[],"tags":[],"max-age":-1},"#weight":18},"field_free_reduced_lunch_field":{"#cache":{"contexts":[],"tags":[],"max-age":-1},"#weight":19},"field_authorized_ib_world_school":{"#cache":{"contexts":[],"tags":[],"max-age":-1},"#weight":23},"field_minority_students_field_7":{"#cache":{"contexts":[],"tags":[],"max-age":-1},"#weight":34},"field_minority_students_total":{"#cache":{"contexts":[],"tags":[],"max-age":-1},"#weight":35},"field_total_enrollment":{"#cache":{"contexts":[],"tags":[],"max-age":-1},"#weight":37},"field_survey_institution":{"#cache":{"contexts":[],"tags":[],"max-age":-1},"#weight":164},"field_type_of_institution_commun":{"#cache":{"contexts":[],"tags":[],"max-age":-1},"#weight":187},"field_type_of_institution_school":{"#cache":{"contexts":[],"tags":[],"max-age":-1},"#weight":188},"field_banner_1":{"#theme":"field","#title":"Banner 1","#label_display":"above","#view_mode":"full","#language":"en","#field_name":"field_banner_1","#field_type":"image","#field_translatable":false,"#entity_type":"node","#bundle":"survey","#object":{"in_preview":null},"#items":{},"#formatter":"image","#is_multiple":false,"#third_party_settings":[],"0":{"#theme":"image_formatter","#item":{},"#item_attributes":{"loading":"lazy"},"#image_style":"","#url":null,"#cache":{"tags":["file:868"],"contexts":[],"max-age":-1}},"#cache":{"contexts":[],"tags":[],"max-age":-1},"#weight":189},"field_banner_2":{"#theme":"field","#title":"Banner 2","#label_display":"above","#view_mode":"full","#language":"en","#field_name":"field_banner_2","#field_type":"image","#field_translatable":false,"#entity_type":"node","#bundle":"survey","#object":{"in_preview":null},"#items":{},"#formatter":"image","#is_multiple":false,"#third_party_settings":[],"0":{"#theme":"image_formatter","#item":{},"#item_attributes":{"loading":"lazy"},"#image_style":"","#url":null,"#cache":{"tags":["file:869"],"contexts":[],"max-age":-1}},"#cache":{"contexts":[],"tags":[],"max-age":-1},"#weight":190},"field_banner_3":{"#theme":"field","#title":"Banner 3","#label_display":"above","#view_mode":"full","#language":"en","#field_name":"field_banner_3","#field_type":"image","#field_translatable":false,"#entity_type":"node","#bundle":"survey","#object":{"in_preview":null},"#items":{},"#formatter":"image","#is_multiple":false,"#third_party_settings":[],"0":{"#theme":"image_formatter","#item":{},"#item_attributes":{"loading":"lazy"},"#image_style":"","#url":null,"#cache":{"tags":["file:870"],"contexts":[],"max-age":-1}},"#cache":{"contexts":[],"tags":[],"max-age":-1},"#weight":191},"field_type_of_institution_higher":{"#cache":{"contexts":[],"tags":[],"max-age":-1},"#weight":192},"field_type_of_classes_community":{"#cache":{"contexts":[],"tags":[],"max-age":-1},"#weight":193},"field_type_of_classes_higher":{"#cache":{"contexts":[],"tags":[],"max-age":-1},"#weight":194},"field_type_of_classes_student":{"#cache":{"contexts":[],"tags":[],"max-age":-1},"#weight":195},"field_languages_offered_communit":{"#cache":{"contexts":[],"tags":[],"max-age":-1},"#weight":196},"field_language_offered_7_4":{"#cache":{"contexts":[],"tags":[],"max-age":-1},"#weight":199},"field_language_offered_5_4":{"#cache":{"contexts":[],"tags":[],"max-age":-1},"#weight":200},"field_language_offered_6_1":{"#cache":{"contexts":[],"tags":[],"max-age":-1},"#weight":201},"field_language_offered_6_2":{"#cache":{"contexts":[],"tags":[],"max-age":-1},"#weight":202},"field_language_offered_6_3":{"#cache":{"contexts":[],"tags":[],"max-age":-1},"#weight":203},"field_language_offered_6_4":{"#cache":{"contexts":[],"tags":[],"max-age":-1},"#weight":204},"field_language_offered_7_1":{"#cache":{"contexts":[],"tags":[],"max-age":-1},"#weight":205},"field_language_offered_7_2":{"#cache":{"contexts":[],"tags":[],"max-age":-1},"#weight":206},"field_language_offered_7_3":{"#cache":{"contexts":[],"tags":[],"max-age":-1},"#weight":207},"field_language_offered_8_1":{"#cache":{"contexts":[],"tags":[],"max-age":-1},"#weight":208},"field_language_offered_5_2":{"#cache":{"contexts":[],"tags":[],"max-age":-1},"#weight":209},"field_language_offered_8_2":{"#cache":{"contexts":[],"tags":[],"max-age":-1},"#weight":210},"field_language_offered_8_3":{"#cache":{"contexts":[],"tags":[],"max-age":-1},"#weight":211},"field_language_offered_8_4":{"#cache":{"contexts":[],"tags":[],"max-age":-1},"#weight":212},"field_language_offered_9_1":{"#cache":{"contexts":[],"tags":[],"max-age":-1},"#weight":213},"field_language_offered_9_2":{"#cache":{"contexts":[],"tags":[],"max-age":-1},"#weight":214},"field_language_offered_9_3":{"#cache":{"contexts":[],"tags":[],"max-age":-1},"#weight":215},"field_language_offered_9_4":{"#cache":{"contexts":[],"tags":[],"max-age":-1},"#weight":216},"field_language_offered_5_3":{"#cache":{"contexts":[],"tags":[],"max-age":-1},"#weight":217},"field_language_offered_5_1":{"#cache":{"contexts":[],"tags":[],"max-age":-1},"#weight":218},"field_language_offered_2_2":{"#cache":{"contexts":[],"tags":[],"max-age":-1},"#weight":220},"field_language_offered_1_1":{"#cache":{"contexts":[],"tags":[],"max-age":-1},"#weight":224},"field_language_offered_1_3":{"#cache":{"contexts":[],"tags":[],"max-age":-1},"#weight":225},"field_language_offered_1_2":{"#cache":{"contexts":[],"tags":[],"max-age":-1},"#weight":226},"field_language_offered_1_4":{"#cache":{"contexts":[],"tags":[],"max-age":-1},"#weight":227},"field_language_offered_2_1":{"#cache":{"contexts":[],"tags":[],"max-age":-1},"#weight":228},"field_language_offered_2_3":{"#cache":{"contexts":[],"tags":[],"max-age":-1},"#weight":229},"field_language_offered_4_4":{"#cache":{"contexts":[],"tags":[],"max-age":-1},"#weight":230},"field_language_offered_2_4":{"#cache":{"contexts":[],"tags":[],"max-age":-1},"#weight":231},"field_language_offered_3_1":{"#cache":{"contexts":[],"tags":[],"max-age":-1},"#weight":232},"field_language_offered_3_2":{"#cache":{"contexts":[],"tags":[],"max-age":-1},"#weight":233},"field_language_offered_3_3":{"#cache":{"contexts":[],"tags":[],"max-age":-1},"#weight":234},"field_language_offered_4_1":{"#cache":{"contexts":[],"tags":[],"max-age":-1},"#weight":235},"field_language_offered_3_4":{"#cache":{"contexts":[],"tags":[],"max-age":-1},"#weight":236},"field_language_offered_4_2":{"#cache":{"contexts":[],"tags":[],"max-age":-1},"#weight":237},"field_language_offered_4_3":{"#cache":{"contexts":[],"tags":[],"max-age":-1},"#weight":238},"field_accreditation_higher_3":{"#theme":"field","#title":"Accreditation Higher 3","#label_display":"above","#view_mode":"full","#language":"en","#field_name":"field_accreditation_higher_3","#field_type":"list_string","#field_translatable":false,"#entity_type":"node","#bundle":"survey","#object":{"in_preview":null},"#items":{},"#formatter":"list_default","#is_multiple":true,"#third_party_settings":[],"0":{"#markup":"Northwest Commission on Colleges and Universities (NWCCU)","#allowed_tags":["a","b","big","code","del","em","i","ins","pre","q","small","span","strong","sub","sup","tt","ol","ul","li","p","br","img"]},"#cache":{"contexts":[],"tags":[],"max-age":-1},"#weight":254},"field_personal_detail_permission":{"#cache":{"contexts":[],"tags":[],"max-age":-1},"#weight":255},"field_language_students_needs":{"#cache":{"contexts":[],"tags":[],"max-age":-1},"#weight":257},"field_webform_submission_id":{"#theme":"field","#title":"webform_submission_id","#label_display":"above","#view_mode":"full","#language":"en","#field_name":"field_webform_submission_id","#field_type":"integer","#field_translatable":false,"#entity_type":"node","#bundle":"survey","#object":{"in_preview":null},"#items":{},"#formatter":"number_integer","#is_multiple":false,"#third_party_settings":[],"0":{"#markup":"1602"},"#cache":{"contexts":[],"tags":[],"max-age":-1},"#weight":556},"field_school_others":{"#cache":{"contexts":[],"tags":[],"max-age":-1},"#weight":560},"field_language_offered_1_5":{"#cache":{"contexts":[],"tags":[],"max-age":-1},"#weight":562},"field_language_offered_2_5":{"#cache":{"contexts":[],"tags":[],"max-age":-1},"#weight":563},"field_language_offered_3_5":{"#cache":{"contexts":[],"tags":[],"max-age":-1},"#weight":564},"field_language_offered_4_5":{"#cache":{"contexts":[],"tags":[],"max-age":-1},"#weight":565},"field_language_offered_5_5":{"#cache":{"contexts":[],"tags":[],"max-age":-1},"#weight":566},"field_language_offered_6_5":{"#cache":{"contexts":[],"tags":[],"max-age":-1},"#weight":567},"field_languages_offered_7_5":{"#cache":{"contexts":[],"tags":[],"max-age":-1},"#weight":568},"field_language_offered_9_5":{"#cache":{"contexts":[],"tags":[],"max-age":-1},"#weight":569},"field_language_offered_8_5":{"#cache":{"contexts":[],"tags":[],"max-age":-1},"#weight":570},"field_language_offered_10_5":{"#cache":{"contexts":[],"tags":[],"max-age":-1},"#weight":571}}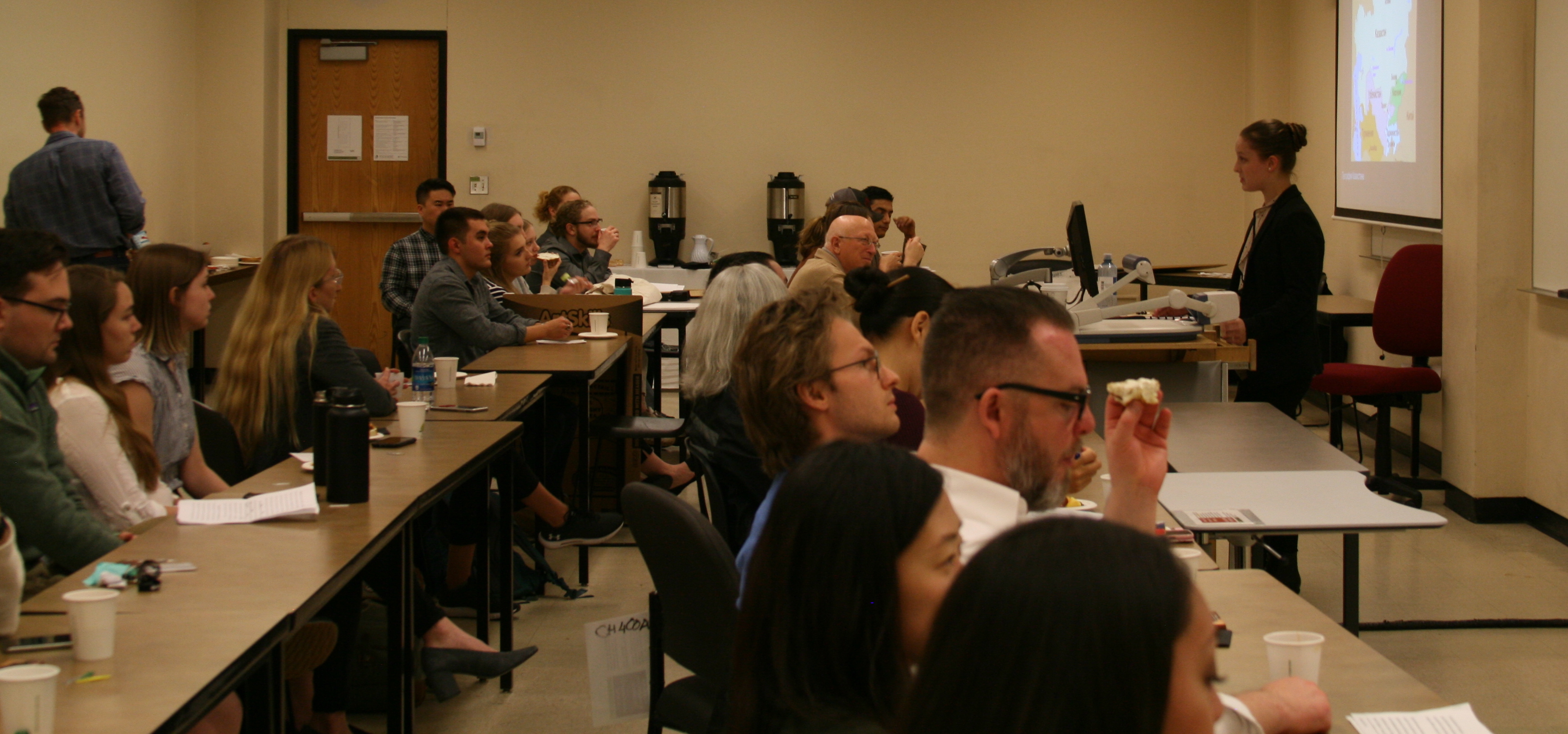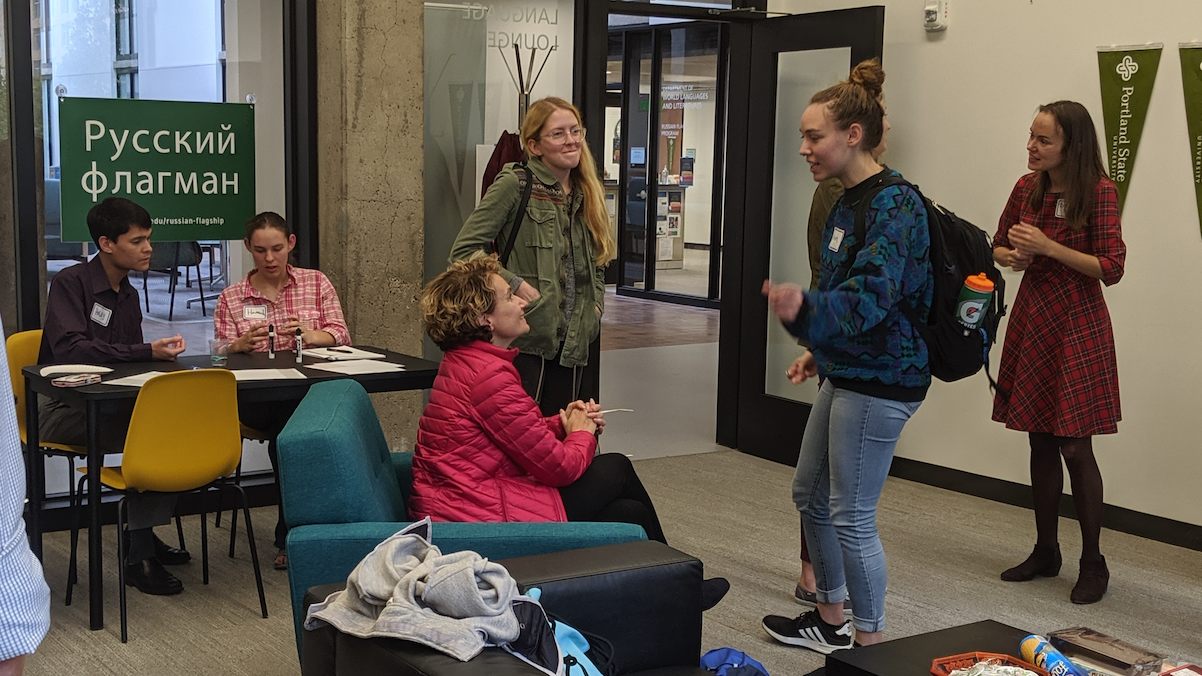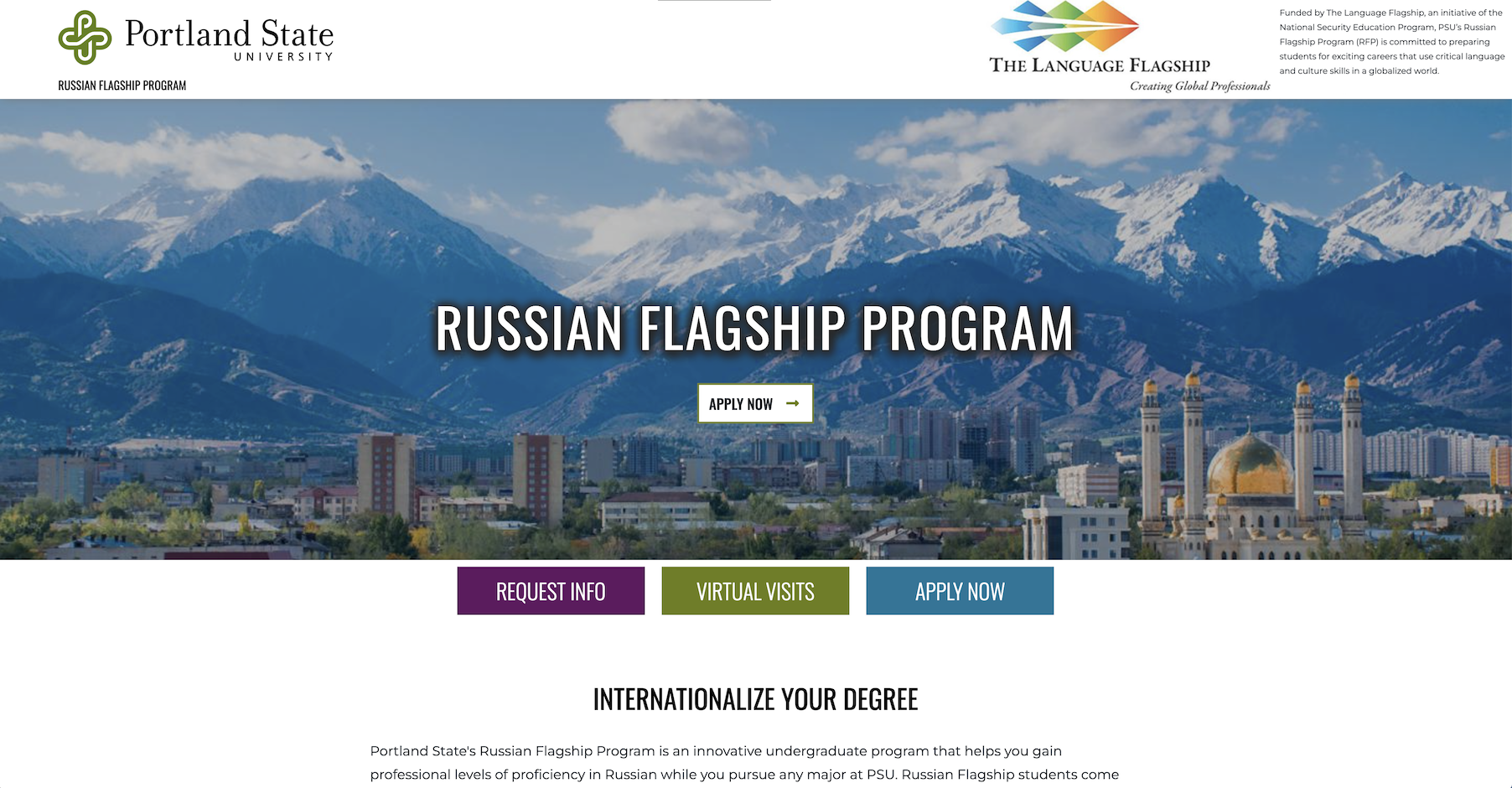 Higher Education Institution
Public | Four-year institutions
Portland State University
Portland, Oregon 97207
Russian Language and Cultural Skills for Any Major Institute Background
We adjust course offerings so that students can gain proficiency as rapidly as possible. For example, we offer both regular-paced and intensive first-year Russian during the academic year, and we offer third-year Russian both during the summer and during the academic year.
We work closely with Russian language programs in the local community colleges and the local public school district so that there is a smooth transition from those programs to our Russian minor, major, and/or Flagship program. We can successfully place students and heritage speakers in our program based on their proficiency levels since our courses are designed to meet specific proficiency outcomes.
We offer intensive advising to students about language learning strategies, study strategies, testing performance strategies, guidance in applying for scholarships (Boren, CLS, Gilman), and career exploration. These topics are covered in a one-credit Flagship Studies class that students take each term of their first year in the program. We also offer academic advising about course selection to students so that they can complete any major at the university and the Russian Flagship Program.
Access
Accountability
Keys to access and accountability
Selected Section
Improve Access for all learners in more languages
Techniques to Retain HULs
Faculty/administrative awareness training
Obstacles that HULs face
Schedule
Program or institution requirements
Offer classes specifically targeted to HULs
Adapt delivery modes to HULs
Specific practices that are the reasons your HULs enjoy success in your program
Practice 1
Intensive advising and support for individual students; small class-size and faculty that keeps close watch on student academic success and progress
Practice 2
Ability to offer one-on-one conversation practice for students in the Flagship Program
Increase ACCOUNTABILITY Through Transparency And Documentation
Program publishes clear description of its goals and requirements
Program makes public its efforts to increase HUL enrollments
Program makes public its definition of student success
Program incorporates online learning in order to increase access and/or improve learning
Co-curricular Offerings
The goal of the Flagship Program is for students to pursue any of the 200 majors that PSU offers and then add Russian to that major. Inside the Russian course offerings, we do offer content about the geography, history, politics, environmental issues etc
Emphasize in your language program
Cultural Literacy
Employment opportunities
Global citizenship, cosmopolitanism
Human diversity, including linguistic diversity
Intercultural Competence
Language Proficiency
Usage/immersion learning
Implement any workforce preparation activities
Yes
Internships in an employment setting
Occupationally-oriented presentations by employers, employees, or alums
Occupationally oriented workshops (credit or non-credit)
Support co-curricular collaborations
Professional teacher association programs, seminars, workshops
Other campus language programs
K-12 collaborations
Keys to access and Accountability
Recruit teachers from HUL communities
Offer in-service professional development
Support professional development focused
More focus on teaching language for proficiency; incorporating technology into language teaching and learning; measurement of student outcomes; organizing curriculum for advanced language learning
Program partner with any of the following
Private business enterprises that benefit HULs
Partnerships with philanthropic
Language immersion opportunities
Program conduct any of the following as part of their in-country language immersion programs
Pre- and post-program assessments for students

Intercultural development
Type of financial aid do you provide to HULs to participate in study abroad programs
US federal government programs do you encourage
Critical Language Scholarship (CLS)
The Language Flagship
David L. Boren Scholarship or Fellowship
Benjamin A. Gilman International Scholarship
Fulbright Scholarship
Partner with any foreign university where students will receive scholarship
Institution Information
Institution classified as a Minority Serving
Yes,
Actively Recruit Students from following groups
Is Language Required
Yes , It is a College or school requirement
Accreditation
Northwest Commission on Colleges and Universities (NWCCU)